Langhorne: It's Senior Night here at Harry's House as we welcome Head Coach Dan McShane and the Pennsbury Falcons. This game is always the most anticipated game of the regular season and both stands are packed. A share of the Suburban One National League Championship Title for the 'Skins is on also on the line.
The first half was all Neshaminy. Six minutes in and assisted by a nice 25 yard gain on the speedy legs of Sophomore Chris James, the 'Skins were at the Falcons' 35 yard line where Brody McAndrew threw a perfect pass to Cory Joyce for a touchdown. Jack Hughes split the uprights for the extra point. Both teams then went 3 and out and the 1st quarter ended with a punt to Pennsbury.
Pennsbury was a quick three and out and the ball went back to the 'Skins. However, the Falcons intercepted a tipped McAndrew pass and with their best drive of the 1st half got down to the 'Skins 9 yard line where they fumbled and Oleh "The Iceman" Manzyk quickly recovered. The Brody bunch then put on an offensive show showcasing a 25 yard pickup run by Ryan O'Connor, a 49 yard run by James and a 15 yard reception by Cory Joyce, culminating in a 3 yard pass to O'Connor in the end zone. Hughes added another point to make the score 'Skins 14 – Falcons 0.
With 2 minutes left in the half the 'Skins scored again in a series of eight plays with a McAndrew pass to Joyce in the end zone and Hughes was now three for three. Score 'Skins 21 – Falcons 0 as the half ended.
And it was back to work after the break. With Pennsbury receiving the kick, the 'Skins defense shut them down in a quick 3 and out. The 'Skins then put together a successful 66 yard drive highlighted by an 11 yard catch by Joyce, a 24 yard run by James and an 11 yard run by Manzyk to the Falcons' 11 yard line where McAndrew caught Joyce in the end zone for another touchdown. Hughes went 4 for 4 and the score was 'Skins 28 – Falcons 0.
The 4th quarter saw both teams score – with 7:24 left on clock the Falcons recovered a Neshaminy fumble and took the ball from the 'Skins 20 yard line all the way into 'Skins territory to score on a Drew Hensor pass to Sheehan Miles. Neshaminy answered immediately after Zack Cannimore recovered the Falcon's on-side kick on the 'Skins own 45 yard line and scored in just three plays on a James 38 yard touchdown run. Hughes was perfect for the night with a record of 5 for 5. Score 'Skins 35 – Falcons 7 and that is where it stayed for the last three minutes of the game.
We thank Coach McShane and the Pennsbury players for fighting hard all four quarters. Great big shout out to the 'Skins' defense – every one of them – who held Pennsbury to one score and made crucial stops all game long.
Neshaminy will share the SOL National title with Harry S. Truman.
Captains for the night – #5 Oleh Manzyk, #12 Brody McAndrew, #25 Cory Joyce and #88 Bobby Buchys
As of this writing Neshaminy is #7 seed but click on the link for changes. Due to Saturday games we do not know who next week's Round 1 opponent will be, but Downingtown East or Haverford Twp. are two possibilities. Website will be updated as soon as we receive the information tomorrow. PIAA brackets are here and should be updated this weekend.
UPDATE Saturday 10/27: Neshaminy is officialy ranked at #8 seed. We are scheduled to play Haverford Twp. at home next Friday. Haverford Twp high school football Head Coach Gallgher is a coaching legend in Delaware County and we are looking forward to this match up. PIAA brackets are here and should be updated this weekend.
Good Night Mrs. B!
Boxscore
| Game 10 | 1 | 2 | 3 | 4 | F |
| --- | --- | --- | --- | --- | --- |
| Neshaminy | 7 | 14 | 7 | 7 | 35 |
| Pennsbury | 0 | 0 | 0 | 7 | 7 |
| Team | Qtr | Time | Description | NHS | OPP |
| --- | --- | --- | --- | --- | --- |
| N | 1 | 5:34 | 35 yard TD pass Brody McAndrew to Cory Joyce and Jack Hughes kick is good | 7 | 0 |
| N | 2 | 3:20 | 3 yd TD pass McAndrew to Ryan O'Connor in end zone and Hughes kick is good | 14 | 0 |
| N | 2 | 1:15 | 11 yd TD pass McAndrew to Joyce and Hughes kick is good | 21 | 0 |
| N | 3 | 5:50 | 11 yd TD run by Chris James and Hughes kick is good | 28 | 0 |
| P | 4 | 4:56 | 18 yard TD pass Drew Hensor to Sheehan Miles and Brady Burgfechtel kick is good | 28 | 7 |
| N | 4 | 3:24 | 38 yard TD run by James and Hughes kick is good | 35 | 7 |
WBCB Offensive Player of the Game
Brought to you by Faulkner Auto Group
Offense: Cory Joyce
Brought to you by Faulkner Auto Group
Defense: Oleh Manzyk
Sterling Limousine Players of the Week

Offense First star: Brody McAndrew, Neshaminy
The Redskins' junior quarterback was on top of his game, completing 12-of-17 passes for 168 yards and three touchdowns in Neshaminy's 35-7 win over Pennsbury in a battle for a share of the SOL National title. McAndrew's 36-yard touchdown pass to Cory Joyce gave the Redskins a lead they would not lose and set the tone for the game.
Coach Steve Wilmot says: "Brody McAndrew brings a lot of leadership and ability to our football team. Our offense is built around him, and he does a great job of executing it. He probably had his best game of the year against Pennsbury, throwing for three touchdowns and continuing to execute our offense well. I'm looking forward to watching him perform in the playoffs.".
Defense First star: Oleh Manzyk, Neshaminy
The senior linebacker was the catalyst in yet another standout defensive effort in Neshaminy's 35-7 win over Pennsbury in a battle for a share of the SOL National title, finishing with seven tackles, including one for a loss. He had two hurries, one pass breakup and one fumble recovery. The Redskins' defense has a pair of shutouts and has allowed just three touchdowns in its last five games – all wins. Manzyk and teammate Cory Joyce are the first players in Neshaminy history to appear in four wins over Pennsbury in a rivalry that began in 1930.
Coach Steve Wilmot says: "Oleh Manzyk is the heart and soul of our football team. He plays with drive and determination that all of the players try to emulate. He is a true student of the game and always seems to be at the right place at the right time. Against Pennsbury, he had some key tackles at key times of the game to stop their drives. He also had a key fumble recovery at the Pennsbury eight-yard line that resulted in a 92-yard touchdown drive."
Honorable Mention Chris James, Neshaminy
The senior wide receiver had five catches for 97 yards and two touchdowns in Neshaminy 35-7 win over Pennsbury.
Players of the Week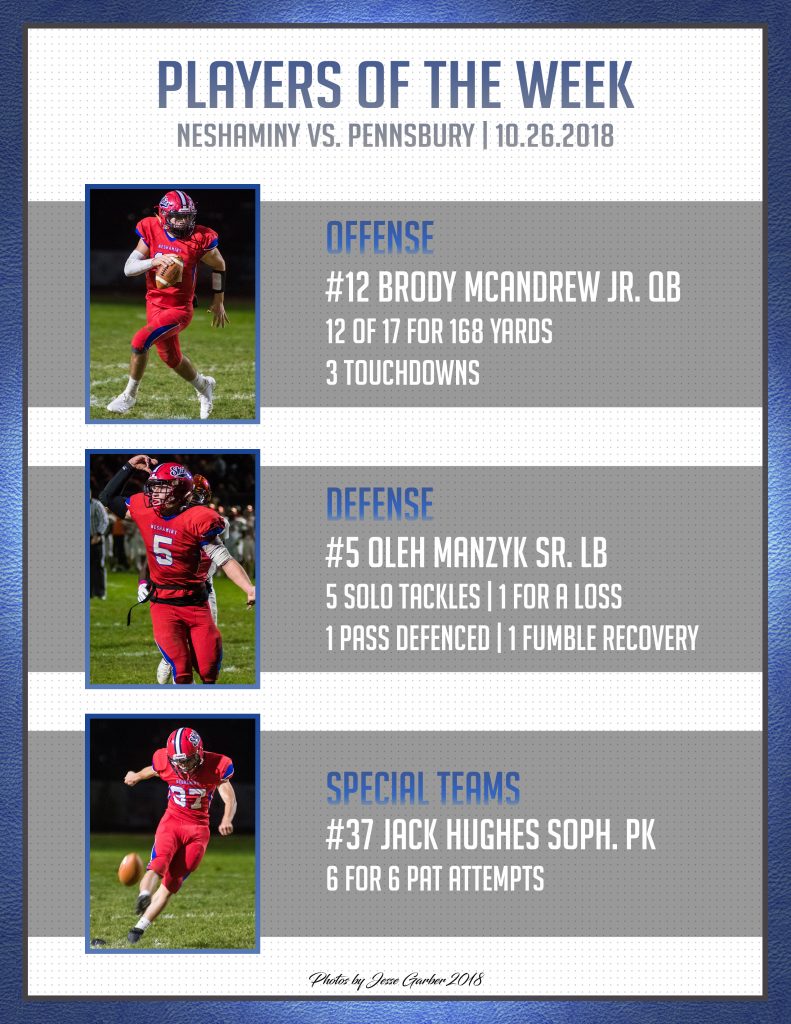 Our Seniors