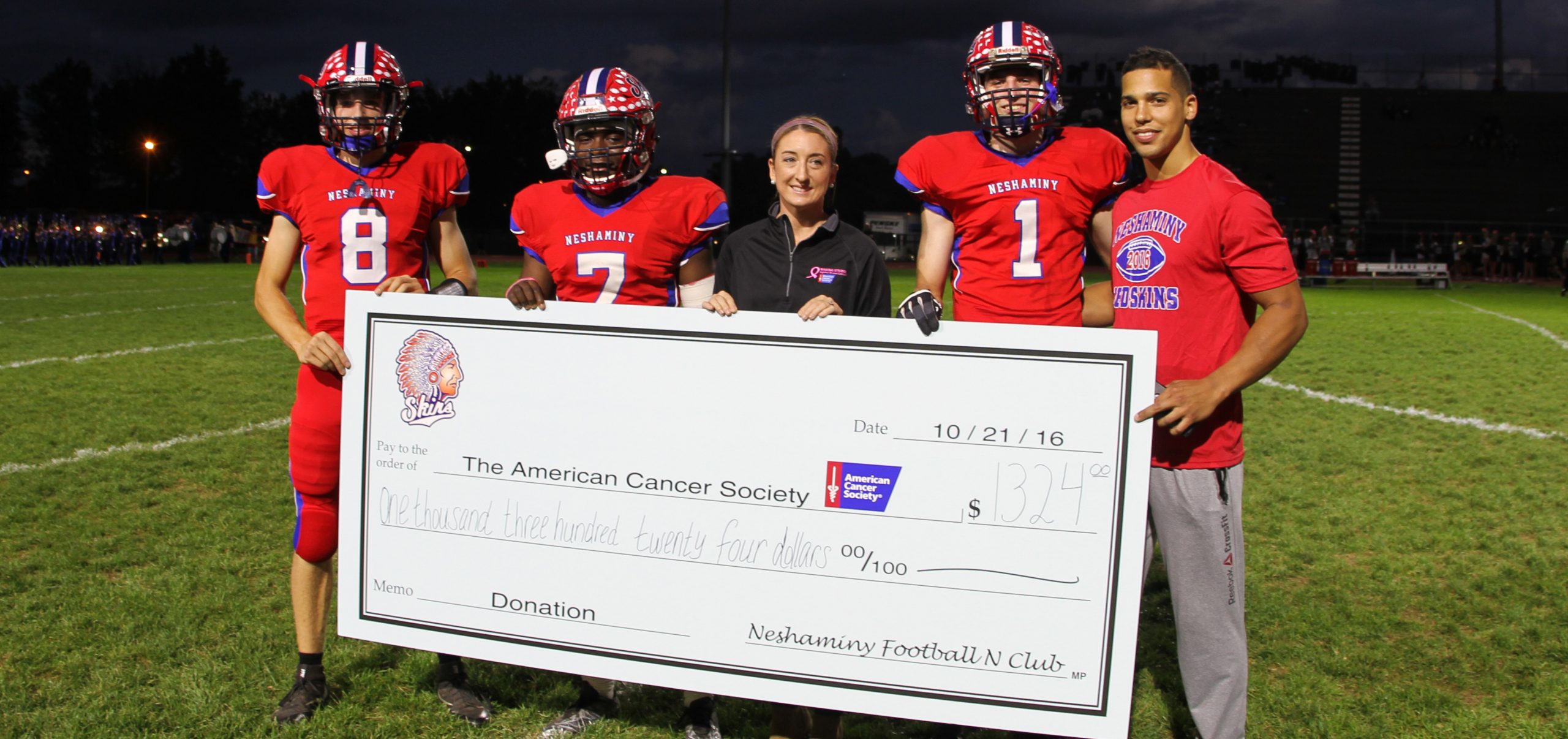 LANGHORNE: As pink was the color of the night at "Heartbreak Ridge" there was no doubt that 2016's Breast Cancer Awareness Month was well underway. First organized by The American Cancer Society in 1985 every October since has seen a national focus on working to both understand and defeat this pervasive disease. And doing their part with the fight, several Neshaminy N Club members started the evening off with the group's presentation of an oversized check and donation of more than $1,300.00.
But getting back to the business at hand, tonight saw the 'Skins entertaining Council Rock South in an SOL contest. And after winning the toss, Neshaminy took the opportunity and elected to receive. Looking sharp from the start, the Redskins' offense went the distance with Will Dogba going in from the 19 for the first points of the game.
Following the kickoff to South Jacob Gordon's interception of a G-Hawk pass soon had the ball back to Neshaminy. Then quickly scoring again, Langhorne saw that drive's touchdown courtesy of a six-yard pass from Mason Jones to Zach Tredway. Plus with Dylan McDonald's two PATs on the money the 'Skins had a 14-0 lead.
Not folding up, though, the Golden Hawks immediately stitched together a nice offensive effort of their own which saw them reach the 'Skins five; however, that's where both the first-quarter and the visitor's threat ended on Mike Garlick's fourth-and-goal sack of the scrambling South quarterback.
The second session then looked like a mirror of the first with Neshaminy's initial effort of that period ending on an 11-yard Jones to Tredway touchdown producing aerial. Then on the ensuing South series a rough snap saw the punt effort botched as Dogba soon capped off a short-field for Neshaminy with a two-yard dive for the touchdown. And as McDonald's leg never misses the scoreboard read 28-0 with four minutes until the half.
Shining all night it was Gordon then once again stopping a Golden Hawk drive when he pilfered an enemy pass at their 28. And showing off his moves, he also took the rock all the way to the endzone to lift the Wilmotmen's margin to 35-0 at the half.
Back on the field after the break, the running clock made the second-half a blur for the teams. Still, a third-quarter South TD, after a fumble by Neshaminy put them in good position and then Mike Crescenzo's fourth-quarter jaunt for six, served to punctuate the final periods with Matt Leonhauser's PAT making it 42-7 in Neshaminy's favor.
With the wide lead then allowing a rest for the 'Skins' starters, an opportunity was presented for the "stars-in-waiting" to stretch their legs. Making the most of it, the Hebron brothers, Savaughn and Savion, led Langhorne's final ball control drive as they chewed up chunks of yardage. Reaching the one-yard stripe coach Wilmot then ordered the "O" to take a knee and let the clock run down to zero.
Good effort by Neshaminy's players tonight and thank you South for bringing your all.
Finally, and although we don't need to remind anyone, next week is the final game of the regular season. A home contest too, Neshaminy's "guest" will be longtime next-door neighbor and rival, Pennsbury. So with that said we'll end with just this: Get to "The Ridge" early as Harry's House will be jam packed for this one!
Good Night Mrs. B!
Boxscore
| Game 9 | 1 | 2 | 3 | 4 | F |
| --- | --- | --- | --- | --- | --- |
| Neshaminy | 14 | 21 | 0 | 7 | 42 |
| CR South | 0 | 0 | 7 | 0 | 7 |
| Team | Qtr | Time | Description | NHS | OPP |
| --- | --- | --- | --- | --- | --- |
| N | 1 | 10:00 | 19 yd TD run by Will Dogba and Dylan McDonald kick is good | 7 | 0 |
| N | 1 | 5:40 | 6 yd TD pass Mason Jones to Zack Tredway in the end zone and Dylan McDonald kick is good | 14 | 0 |
| N | 2 | 9:25 | 11 TD pass Mason Jones to Zach Tredway in end zone and Dylan McDonald kick is good | 21 | 0 |
| N | 2 | 4:11 | 2 yd TD run by Will Dogba and Dylan McDonald kick is good | 28 | 0 |
| N | 2 | 3:51 | TD run by Jacob Gordon on his interception of CRS ball and Dylan McDonald kick is good | 35 | 0 |
| CRS | 3 | 7:04 | 3 yd TD run by Chase Patterson and Brett Gold kick is good | 35 | 7 |
| N | 4 | 6:26 | 1 yd TD run Mike Crescenzo and Matt Leonhauser kick is good | 42 | 7 |
Faces in the Crowd
Running into these three gentlemen at the game who can count themselves as proud members of the Redskin gridiron legacy they are, from left to right, Rich Mason, Mark Huett and Steve Dorwart. And pulling up their team photos below, we couldn't help but notice they're each as fit and trim today as when they wearing the Blue & Red.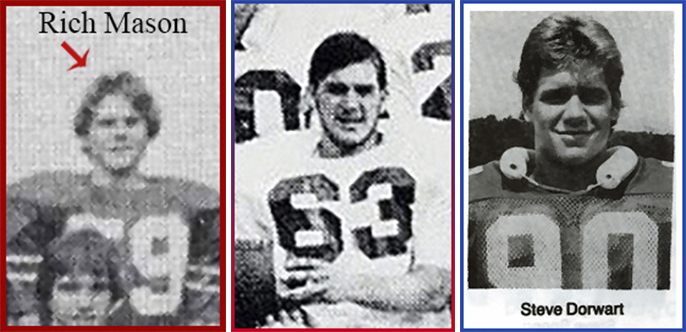 Be sure to stop by and purchase a commemorative brick for the Hall of Fame area, or click here for more information. Every brick counts.
Sterling Limousine Players of the Week

Defensive Third star: Jacob Gordon, Neshaminy – The senior defensive back had a pair of interceptions, including a 28-yard return for a touchdown in Neshaminy's 42-7 win over Council Rock South. He also had one pass breakup and two third down stops.
---
Special Teams Second star: Dylan McDonald, Neshaminy – The senior had three kickoff returns for 118 yards in Neshaminy's 35-22 win over Bensalem.
---
Honor Roll: Mason Jones, Neshaminy – The senior quarterback completed 11-of-17 passes for 116 yards and two touchdowns and also had three carries for 64 yards in Neshaminy's 42-7 win over Council Rock South. Jones eclipsed the 2,000-yard milestone in passing yards for the season.
Univest Athlete of the Week

Univest Athlete of the Week - AJ Sanko
Favorite athlete: Jason Witten
Favorite team: Dallas Cowboys
Favorite memory competing in sports: Beating Pennsbury to get into the playoffs my junior year.
Most embarrassing/funniest thing that has happened while competing in sports: Mason's long touchdown run against Abington last year when half of the offense ran through the end zone, slipped, and fell.
Music on iPod: Classic Rock
Future plans: Attend college
Words to live by: "Speak softly and carry a big stick." - Theodore Roosevelt
One goal before turning 30: Know what I want to do in life
One thing people don't know about me: I'm obsessed with the Simpsons. I have seen nearly every episode.
For full story go to Suburban One Sports