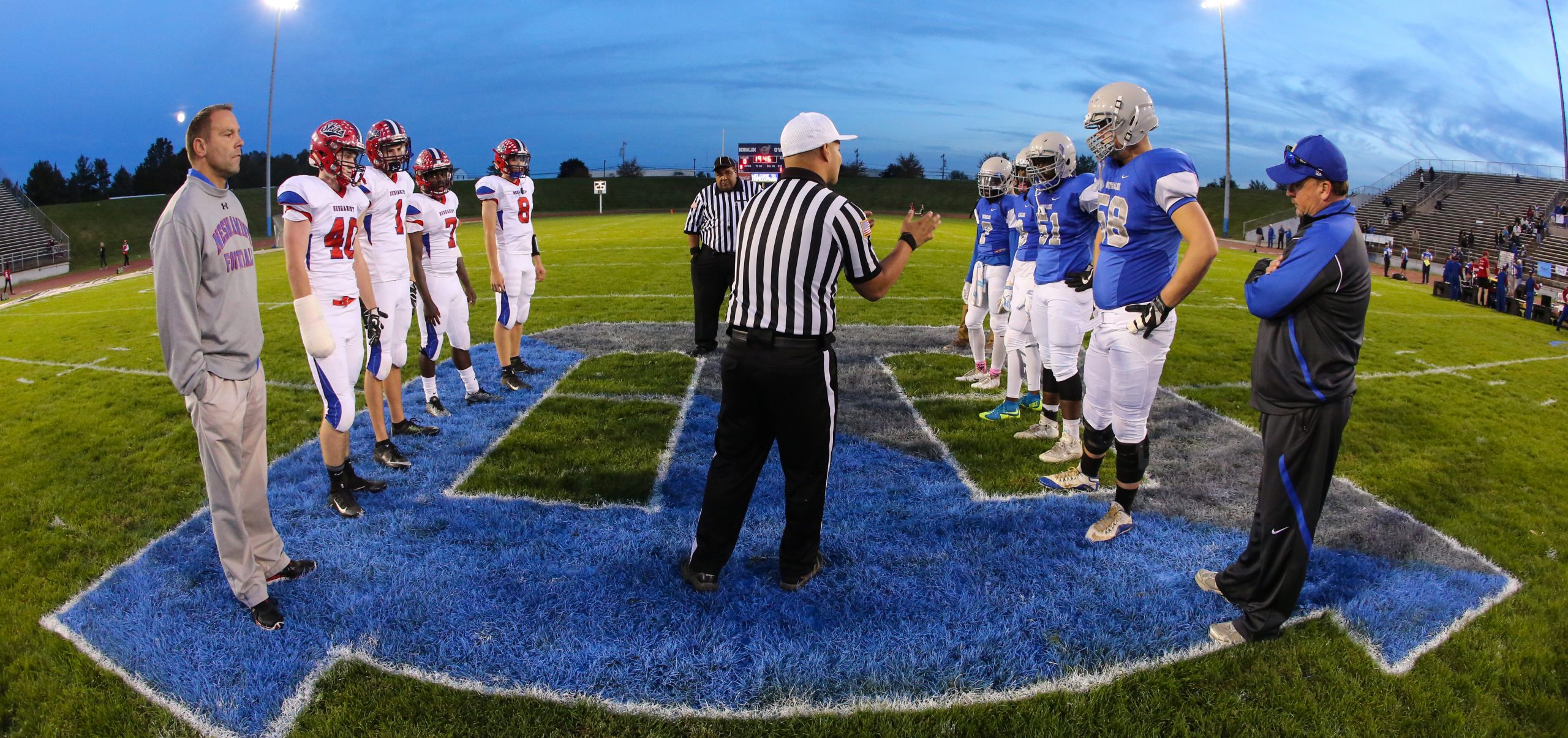 BENSALEM: Not traveling far at all for their last road game of the 2016 season, tonight's contest saw the Blue & Red playing Bensalem, a team on their schedule since 1930. And always a tough out this year's Owls group is as scrappy as they come being right in the thick of a playoff berth hunt. Then as tonight was their Homecoming game, and with a full moon hanging large in the sky, there was all the flavor a football fan could want.
With the Owls winning the toss a roaring kickoff return had them at Neshaminy's 39 where they looked ready to pounce. But with Oleh Manzyk, Mike Garlick and Jacob Gordon stepping it up on that series, Bensalem only reached the 31 before they turned it over on downs. Then just eight plays and 69 yards later Will Dogba's short run, along with Dylan McDonald's point after try, gave the 'Skins a 7-0 lead.
The first-quarter then quieted down until the Owls' Keith Parrish picked up what appeared to be a dead ball following an incomplete Bensalem pass as he ran it nearly 50 yards for a touchdown. A two-point try came up short and the initial session then ended 7-6 just barely in Neshaminy's favor.
And emboldened by their score, the Owls turned up the heat as they added two more scores in the second-period with one featuring a long pass to their big fullback, Malcolm Carey, and another on Keith Parrish's short 4-yard run.
Then as the first half was then closing out, and on the wrong end of a 19-7 score, Mason Jones fired up his troops and engineered a last minute drive capped off by his 18-yard touchdown toss to Garlick. With McDonald's kick true the score tightened to read 19-14 Bensalem as the two teams broke for the halftime break.
Clearly realizing that they were in a game, the 'Skins picked up the pace in the third-quarter adding two six-pointers. Both scores were on ground efforts by Dogba highlighted by an exciting two-point conversion pass from Jones to Zach Tredway for good measure. Plus with the defense doing their part, Bensalem could claim just three points of their own on a field goal.
Finally pulling back the sheets in the last period, Neshaminy called it a night for the Owls behind Dogba's fourth score of the evening. As the big board then showed 35-22 in Neshaminy's favor, and with their comeback completed, that's the way it was at the final gun.
A big congratulations to Zach Tredway on grabbing his 100th career reception during tonight's game, and to Will Dogba who eclipsed the 1,000 yard mark in back to back seasons.
Then a special thank you to head coach Ed Cubbage and the entire Owls' organization for making all of us feel welcome at Bensalem Township's Memorial Stadium. And with Bensalem's 2016 gridders the story of the year here's a shout-out not only to coach but to his assistants and then the entire Owls squad.
Good Night Mrs. B!
Game Captains – Zach Tredway #1, Will Dogba #7, Mason Jones #8 and Hayden Rooney #40.
Boxscore
| Game 8 | 1 | 2 | 3 | 4 | F |
| --- | --- | --- | --- | --- | --- |
| Neshaminy | 7 | 7 | 15 | 6 | 35 |
| Bensalem | 6 | 13 | 3 | 0 | 22 |
| Team | Qtr | Time | Description | NHS | OPP |
| --- | --- | --- | --- | --- | --- |
| N | 1 | 5:42 | 2 yd TD run by Will Dogba and Dylan McDonald kick is good | 7 | 0 |
| B | 1 | 2:24 | Fumble Recovered by Bensalem's Keith Parrish who ran 45 yds for TD and 2 point conversion attempt is no good | 7 | 6 |
| B | 2 | 9:25 | 13 yd TD pass Drashaun Moore to Malcolm Carey and Matt Corbett kick is good | 7 | 13 |
| B | 2 | 2:41 | 4 yd TD run by Keith Parrish and Matt Corbett is blocked by Joel Stills | 7 | 19 |
| N | 2 | 1:19 | 18 yd TD pass Mason Jones to Mike Garlick and Dylan McDonald kick is good | 14 | 19 |
| N | 3 | 10:40 | 8 yd TD run by Will Dogba and Mason Jones to Zach Tredway pass is good for a 2 point conversion | 22 | 19 |
| N | 3 | 3:21 | 8 yd TD run by Will Dogba and Dylan McDonald kick is good | 29 | 19 |
| B | 3 | 1:08 | 32 yd Field Goal by Matt Corbett is good | 29 | 22 |
| N | 4 | 10:15 | 2 yd TD run by Will Dogba and after 2 penalties, kick is blocked | 35 | 22 |
Faces in the Crowd
In the Kelly household football is a family affair. Hunter, a 2016 Neshaminy graduate and present Penn State University football freshman and his Dad, Dan Kelly watch the game from the best view in the house - the sidelines. Dad Dan is a former Bensalem player ('89 grad) and Neshaminy football coach. He is also Hunter's biggest fan. They have been coming to Neshaminy games for many years and we hope to see them for many years to come!
Sterling Limousine Players of the Week

Offensive First Star: Will Dogba, Neshaminy – The senior running back delivered when it mattered most in Neshaminy's 35-22 win, scoring three touchdowns in a second half that saw the 'Skins rally from a 19-14 halftime deficit to earn the victory. Dogba had TD runs of eight, nine and three yards in the pivotal second half. He finished the game with 149 yards and four touchdowns on 19 carries and eclipsed the 1,000-yard mark for the second time in as many seasons.
Coach Steve Wilmot says: "Will has been a workhorse for us all year. When we need those tough yards, we know we can count on Will to get them, especially on the goal line."
---
Third star: Zach Tredway, Neshaminy – The senior had three kickoff returns for 118 yards in Neshaminy's 35-22 win over Bensalem.
---
Honor Roll: Oleh Manzyk, Neshaminy –The sophomore linebacker had led the defense with 10 tackles – two for a loss – and one sack in Neshaminy's 35-22 win over Bensalem.