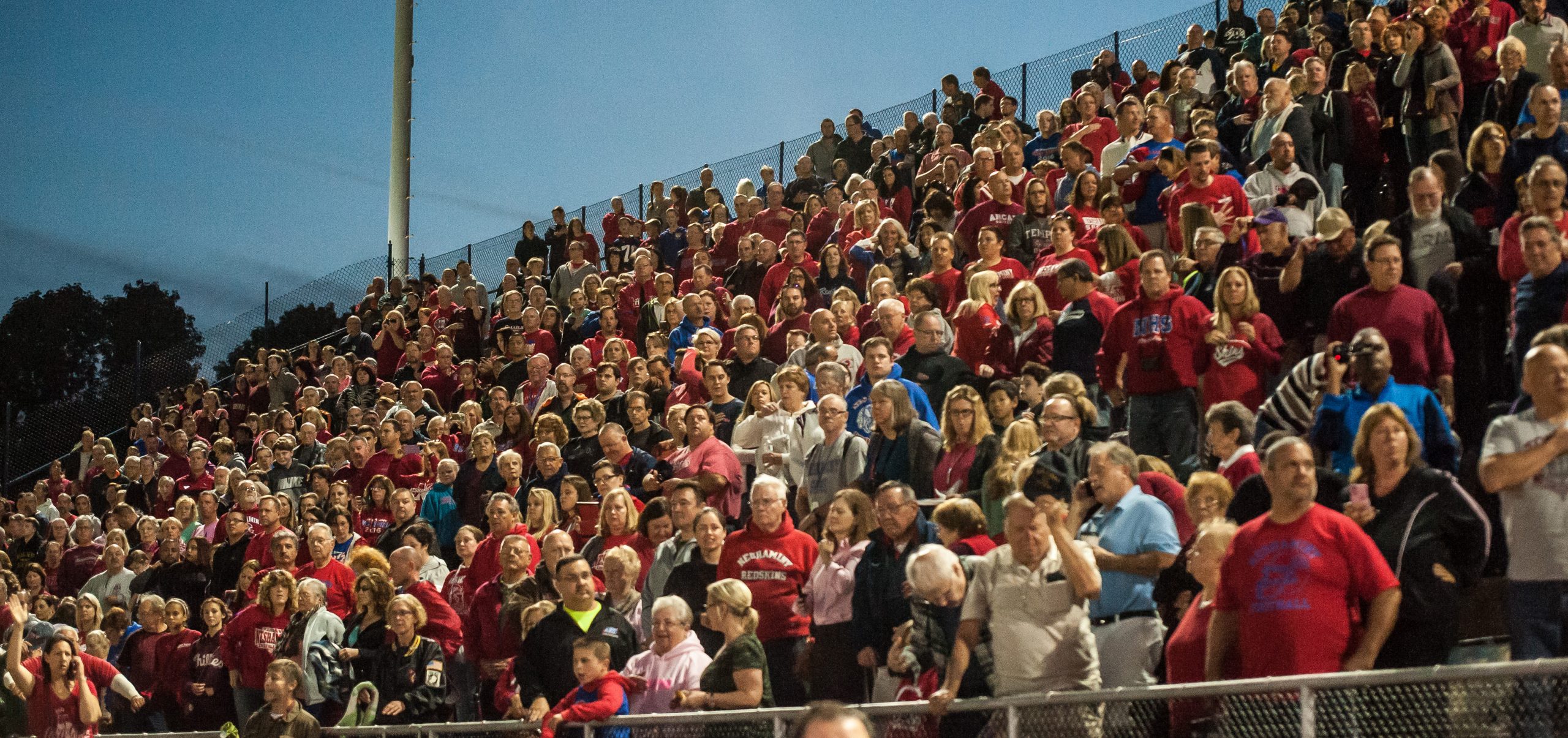 LANGHORNE: On one of those beautiful Lower Bucks County Friday nights that makes you appreciate your Redskins even more than usual, the setting couldn't have been better for Neshaminy's Homecoming football game. And with the pageantry of the event, and the opponent a very talented and tough 5-1 Central Bucks South squad, the packed "red-out" crowd was sure to get its money worth.
Winning the toss the 'Skins vaunted offense immediately put its firepower on display as within just a few minutes they led 7-0 on the strength of Mason Jones' 46-yard aerial strike to Zach Tredway followed by Dylan McDonald's PAT. And with that touchdown leaving the fans screaming for more it appeared it was a bit of a tease as that was it for the scoring during the first 12 minutes.
The second session, though, was a different affair as Jones quickly located Oleh Manzyk for an 8-yard touchdown toss to make it 14-0 after McDonald split the uprights. And no doubt catching the Titans' attention, South then followed up with a determined drive that went to fourth and goal-to-go before Tyler Watson's one-yard run finally got the visitors on the board.
But not looking to be outdone in front of the adoring alumni jamming the west-side stands, it was Jones going to the air once again as he dropped a sweet spot missile into the arms of a racing Mike Garlick. And with nirvana beckoning him there was no stopping the Neshaminy wideout until he crossed the goal line and banked a 46-yard reception and score. McDonald's toe rolled the game to 21-7 in the 'Skins favor and that's how it was as halftime rolled around.
With the long Homecoming halftime festivities leaving Neshaminy's boys a little sluggish it had the opposite effect on the Titans. For looking like supermen they took the second half kickoff and then marched down the field to record their second TD of the night on an 18-yard throw from quarterback James Johns to wide receiver Sean Christopher. And as the extra point was good the game then tightened to a one-score, 21-14 contest.
Apparently the Titan's TD was just the tonic the glassy-eyed Wilmotmen needed for Langhorne then returned the favor in no time when Will Dogba closed out another 'Skins' drive with a 25-yard jaunt. McDonald's one-pointer then opened Neshaminy's lead to 28-14 which is how the board remained through the end of the third-quarter.
As the final period got underway it was obvious the show wasn't over as Jones again went up top and into the corner of the endzone where a leaping Tredway earned another six-pointer with the catch. McDonald then made it 35-14 with Mike Crescenzo's late-in-the-game four-yard burst seeing the final score stand at 42-14 when the gun closed out the evening.
Captains for tonight's game were #1 Zach Tredway, #6 Jacob Gordon, #7 Will Dogba and #8 Mason Jones. Good night Mrs. B!
Boxscore
| Game 7 | 1 | 2 | 3 | 4 | F |
| --- | --- | --- | --- | --- | --- |
| Neshaminy | 7 | 14 | 7 | 14 | 42 |
| CB South | 0 | 7 | 7 | 0 | 14 |
| Team | Qtr | Time | Description | NHS | OPP |
| --- | --- | --- | --- | --- | --- |
| N | 1 | 10:14 | 46 yd TD pass to Zach Tredway on 4th play of the game and Dylan McDonald kick is good | 7 | 0 |
| N | 2 | 9:13 | 8 yd TD pass Mason Jones to Oleh Manzyk and Dylan McDonald kick is good | 14 | 0 |
| CBS | 2 | 5:12 | 1 yd TD run by Tyler Watson and Ron Ridolfi kick is good | 14 | 7 |
| N | 2 | 3:00 | 49 yd TD pass Mason Jones to Mike Garlick | 21 | 7 |
| CBS | 3 | 9:34 | 18 yd TD pass James Johns to Sean Charpentier and Ron Ridolfi kick is good | 21 | 14 |
| N | 3 | 5:25 | 25 yd TD run by Will Dogba and Dylan McDOnald kick is good | 28 | 14 |
| N | 4 | 10:20 | 4 yd td pass Mason Jones to Zach Tredway in the end zone and Dylan McDonald kick is good | 35 | 14 |
| N | 4 | 2:03 | 4 yd TD run by Mike Crescenzo and Dylan McDonald kick is good | 42 | 14 |
Faces in the Crowd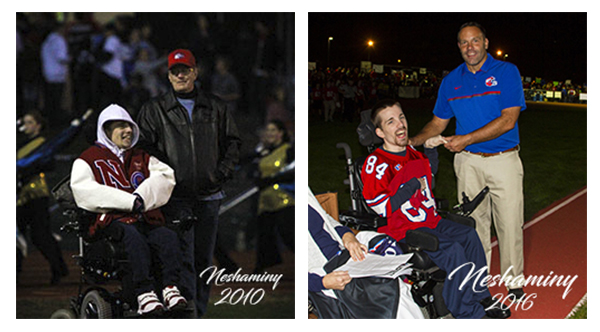 We spotted a 2011 Alumni and Honorary member of the 'Skins from 2008 to 2010, Paul Schreiber with his parents Rick and Beth. He was impressed with the team this year and mentioned that Homecoming is his favorite game of the year! The Cheer team stopped by to say hi and drop off gifts, as did Coaches Wilmot (pictured), French and Ferrara.
Sterling Limousine Players of the Week

Offensive First Star: Mason Jones, Neshaminy – The senior quarterback orchestrated the Redskins' high-powered offense in their 42-14 win over Central Bucks South in an important non-league showdown, completing 14-of-23 passes for 208 yards and four touchdowns.
Coach Steve Wilmot says: "Mason is just terrific leader for us. He runs our offense without blinking an eye. He just has a ton of confidence in himself, and he has a ton of confidence in his teammates. He just runs the show out there. He's our guy."
---
Defensive Second star: Joel Stills, Neshaminy – The junior defensive back had five solo tackles and one assist with three third down stops in Neshaminy's 42-14 win over Central Bucks South.
---
Special Teams Third star: Dylan McDonald, Neshaminy – The senior kicker was once again perfect, connecting on 6-of-6 PATs with seven kickoffs for 353 yards and one touchback in the Redskins' 42-14 win over Central Bucks South. He also had one punt for 43 yards.