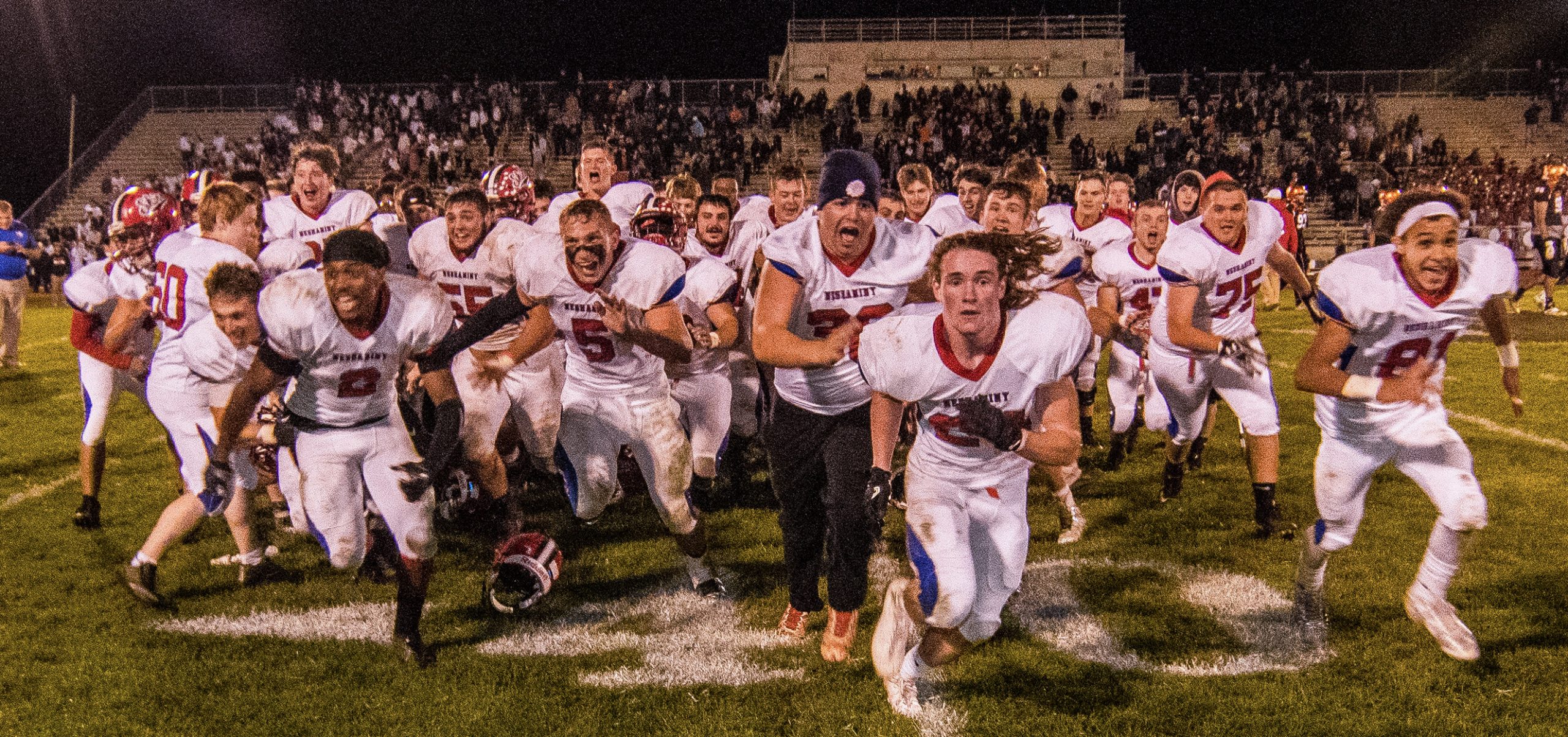 FAIRLESS HILLS: It is a packed house at Falcon Field for Pennsbury's Senior Night. With the SOL National Conference Title as well as District 1 top seeding on the line this is going to be a doozy of a game. Both the 'Skins and the Falcons are coming into this game 8-1 and both teams are capable of taking the title and the #1 spot.
'Skins scored on their first drive on a well-planned 71 yard drive ending with a pass to Zach Cannimore for the 1st touchdown of the game. Falcons came right back to score on a Nasan Robbins 4 yard run but Chris Knop's kick was no good. Score 7-6 'Skins.
The Falcons started off the 2nd quarter with a quick down the field and an 8 yard touchdown run by Robbins yielded 6 and with a good PAT the score went to 13-7 Falcons. A set of fumbles thereafter yielded no results for either team. 'Skins had possession at the end of the half when a late whistle and a loss of a helmet caused the 'Skins to attempt a field goal which fell short. Score stayed 13-7 Falcons going into the break.
The 3rd quarter saw no points on the board and with both defenses holding tight, the ball changed hands six times. Both teams had opportunities to score but neither could capitalize.
Two minutes into the 4th quarter, The Falcons scored with a touchdown pass to Dave Burke and with the extra point the score was 7-20 Falcons. But hold onto your hats folks because you were about to see 10 minutes of Redskin history in the making.
Neshaminy's Joel Stills then ran the ensuing kickoff 93 yards back for a touchdown. Matt Leonhauser nailed the kick and just like that, the 'Skins were back in action. Burke received the kick off but Tyler Foster stopped him at the 13 yard line. Then Nick Silenok, Chris Majors and Mike Garlick stuffed Jason Cook's run on a 3rd and 4 forcing the Falcons to kick.
With 7:11 left in the game the 'Skins started a drive on the 40 yard line. Helped by catches from Garlick and Cannimore along with runs by McAndrew and Stills the 'Skins reached the Falcons' 9 yard line with two minutes left in the game. A sack by the Falcons' defense pushed the 'Skins back to the 17 yard line where under great pressure, McAndrew completed a 15 yard pass to Oleh The Iceman Manzyk who pushed his way dragging defenders to the 1 yard line. With :38 seconds left on the clock on a 4th down and two yards to go, the 'Skins pulled out a masterful play call – ball snapped to The Iceman who flipped the ball to Joyce who in turn threw it right into McAndrew's hands in the end zone. With the conference title and top seeding on the line, Leonhauser split the uprights and just like that the score was 21-20 'Skins. The Falcons did not get the miracle they needed as to come back as a Demarchis pass was intercepted by Corey Joyce who sealed the win.
We thank Coach McShane and his Falcons for their hospitality and we salute the Falcons' defense and the athletic ability of Zach Demarchis. Congratulations to the 'Skins who gave us one heck of a game by saving the best for last.
Captains: #5 Oleh Manzyk, #10 Mike Garlick, #25 Cory Joyce and #74 Jacob Kelly
Good night Mrs. B! We know you loved this one!
Boxscore
| Game 10 | 1 | 2 | 3 | 4 | F |
| --- | --- | --- | --- | --- | --- |
| Neshaminy | 7 | 0 | 0 | 14 | 21 |
| Pennsbury | 6 | 7 | 0 | 7 | 20 |
| Team | Qtr | Time | Description | NHS | OPP |
| --- | --- | --- | --- | --- | --- |
| N | 1 | 6:44 | 4 YD TD Pass to Zach Cannimore and Matt Leonhauser kick is good | 7 | 0 |
| P | 1 | 2:36 | 4 YD TD run by Nasan Robbins and Chris Knop kick is no good | 7 | 6 |
| P | 2 | 8:37 | 8 YD TD run by Nasan Robbins and Chris Knop kick is good | 7 | 13 |
| P | 4 | 9:41 | 9 YD TD pass to Dave Burke and Knop kick is good | 7 | 20 |
| N | 4 | 9:26 | 93 YD kick return Joel Stills and Leonhauser's kick is good | 14 | 20 |
| N | 4 | :30 | TD on a flip to Manzyk who flipped to Cory Joyce who threw the ball 2 YD into end zone to Brody McAndrew and Leonhauser kick is good | 21 | 20 |
WBCB Players of the Game
Brought to you by Faulkner Auto Group
Brody McAndrew
Brought to you by Faulkner Auto Group
Joel Stills
Sterling Limousine Players of the Week

OFFENSE Second star: Brody McAndrew, Neshaminy
The sophomore quarterback completed 13-of-18 passes for 154 yards and one touchdown in Neshaminy's 21-20 win over Pennsbury. McAndrew engineered the game-winning drive in the game's closing minutes, completing a huge third down pass to Oleh Manzyk, who took it to the two-yard line. The sophomore QB caught the TD pass on fourth-and-goal that propelled the Redskins to the win.
DEFENSE First star: Oleh Manzyk, Neshaminy
The junior linebacker had six solo tackles, two for a loss, and two forced fumbles in Neshaminy's 21-20 win over Pennsbury. Manzyk – who came up with a critical third-down reception on the game-winning drive - also played a key role in containing Falcon quarterback Zach Demarchis.
Coach Steve Wilmot says: "Coming into the season, we had high expectations for Oleh. He's a natural outside linebacker, and for most of the year last year, he played outside linebacker. Toward the end of the year, he moved inside out of necessity for us. This year, looking at the players we had coming back, we decided to move Oleh fulltime to inside linebacker. It took him a couple of games to make that adjustment from outside to inside, but over the last 10 weeks, he's just grown so much as a player and as a leader on our team too. He really leads that defense. He makes the calls to get everyone lined up, and he's just been playing at a very high level the last few weeks. "There's a longstanding story we have here at Neshaminy – Oleh came to our football camp as an eighth grader, as a youth, and he ran this 40 time that was unbelievable. We saw how he played, and we invited him to play up with the varsity as a ninth grader. In his very first varsity game against Montclair, we just threw him in at defensive end, and he ends up getting a key sack for us in the fourth quarter. Oleh is just a tremendous athlete, and his speed did negate some of Zach's running a little bit. He still definitely had his runs, but Oleh was there most of the time to catch him."
SPECIAL TEAMS: First star: Joel Stills, Neshaminy
The senior running back returned a kickoff 92 yards for a touchdown that was the game changer in Neshaminy's 21-20 come-from-behind win over Pennsbury. The touchdown came after the Falcons scored to go on top 20-7 early in the fourth quarter.
Coach Steve Wilmot says: "Joel enjoys our kickoff returns a lot. He's been on the touchdown end of things a few times. He's got some guys out there blocking really hard for him, but a lot of credit does go to Joel. Yes, the blocking is there, but there are few athletes in the area that could have made the run that he did. He's just got such tremendous speed. He saw an opening, and he just turned on the jets and went the distance to really put our team back in the game and answer the Pennsbury score."