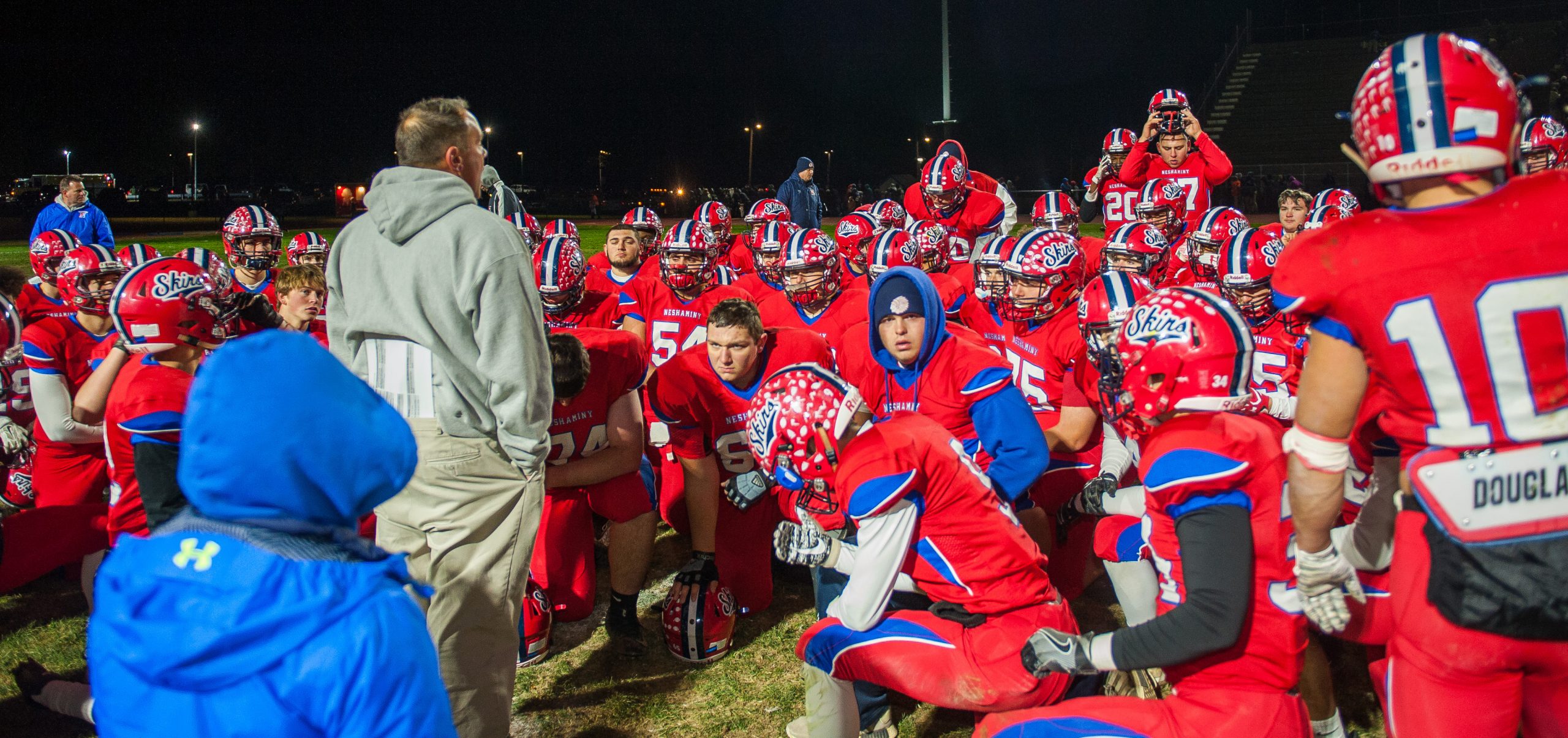 LANGHORNE: We wish to thank the Neshaminy Coaching Staff for all the countless hours they spend in preparation, planning and execution during the season and all throughout the year. We thank their families for selflessly sharing them with all of us.
Thanks to the N Club for their support of the team through the ad program, the snack stand, the sale of Pride Wear and the various fundraisers.
We thank all the faithful fans who come to the game rain or shine, in blazing sun or freezing cold and win or lose to cheer on their Neshaminy Redskins.
We thank the Redskin 9 who sang, chanted and cheered through all 12 games. You were an important part of the success of this team.
Most of all we thank the players. Some of you experienced your last night on The Ridge tonight, some of you are looking forward to next year and some of you are just beginning your journey. Know that you are lucky enough to be amongst an exclusive group – a group called the Neshaminy Redskins.
We respectfully thank and acknowledge the efforts of Jesse Garber – Photograhy, Matt Bartolacci – Videography, Jack Haston – Videography and Bill Magdelinskas – Videography for capturing these all-important moments for us to enjoy for years to come.
Good night Mrs. B!
Boxscore
| Game 12 | 1 | 2 | 3 | 4 | F |
| --- | --- | --- | --- | --- | --- |
| Neshaminy | 6 | 9 | 0 | 2 | 17 |
| Pennsbury- P | 14 | 2 | 13 | 7 | 36 |
| Team | Qtr | Time | Description | NHS | OPP |
| --- | --- | --- | --- | --- | --- |
| P | 1 | 6:34 | 10 YD TD run QB Zach Demarchis and Chris Knop kick is good | 0 | 7 |
| N | 1 | 3:05 | 16 YD TD run Joel Stills and Matt Leonhauser kick is no good | 6 | 7 |
| P | 1 | 1:15 | 16 YD TD run Nasan Robbins and Knop kick is good | 6 | 14 |
| N | 2 | 9:47 | 55 YD TD run Stills and Leonhause kick is blocked | 12 | 14 |
| P | 2 | 4:40 | High snap for safety | 12 | 16 |
| N | 2 | :01 | 37 YD Field Goal by Leonhauser | 15 | 16 |
| P | 3 | 10:45 | 44 YD TD run Nasan Robbins and Knop kick is good | 15 | 23 |
| P | 3 | 6:08 | 2 YD TD Andrew Basalyga and Knop's kick is blocked | 15 | 29 |
| P | 4 | 10:47 | 2 YD TD run Basalyga and Knop's kick is good | 15 | 36 |
| N | 4 | 1:07 | High snap for safety | 17 | 36 |
Game Articles
PreGame Trentonian: Arch-rivals Pennsbury, Neshaminy set for rematch in PIAA District I Class 6A quarterfinals
PreGame Courier Times: It's time for Neshaminy vs. Pennsbury, Part II
The Tentonian: Pennsbury football pounds Neshaminy with throwback performance
Philly.com: Falcons avenges loss to Redskins in PIAA District 1 6A quarterfinal