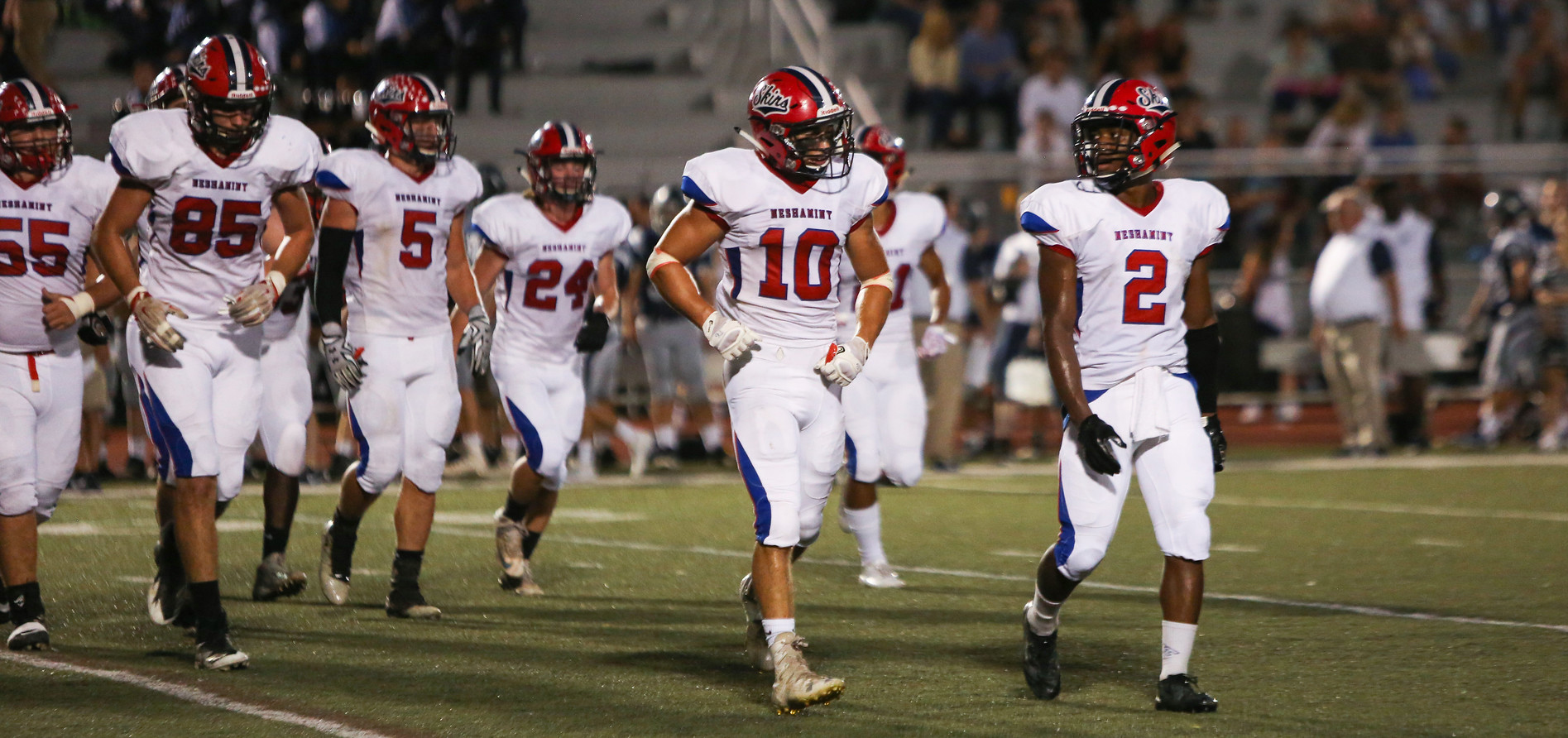 Newtown: With the 'Skins playing their first road game of 2017 it was a beautiful evening for football as they took on the Council Rock North Indians at Walt Snyder Stadium. Always a tough out, Head Coach Matt McHugh had his boys geared up and ready to play. As to the 'Skins, who were coming off a loss to Downingtown West, they were eager to prove that they had the goods to take home a win.
And getting right down to business, the first-quarter saw some great defensive plays by the Blue and Red as they forced the hosts to punt four times while not allowing them a first down. Meanwhile the offense pitched in too as a screen pass from Brody "The Cowboy" McAndrew, just six minutes into the opening session, was caught by Mike Garlick who then raced 49 yards for the first touchdown of the evening. Matt Leonhauser's PAT was down the middle and the 'Skins went on top 7-0.
The second-quarter then proved to be a busy one for Neshaminy as safety Cory Joyce's 33 yard pick-6 interception on North's first possession added six more Neshaminy points. Leonhauser was again on target with the point after as the 'Skins opened a 14-0 lead.
Following another Rock punt the next 'Skins series saw Savion Hebron break free for 36 yards down to the enemy 20 yard line. But looking bottled up as North's defense stiffened it was Oleh "The Iceman" Manzyk who got the assignment on a fourth and short. Barreling his way to the five yard stripe a few plays later he got the call once again as he leaped into the pile and across the goal line for another Blue & Red score; however, a botched snap on the PAT kept the score at 20-0 Neshaminy.
Still in the second-period, it wasn't long before McAndrew commanded another series that saw him first find The Iceman for a 27 yard aerial which was immediately followed by a ten yard pass to Joyce that had Neshaminy at North's 17. A penalty on the 'Skins that saw them back up a bit was no big deal as The Cowboy quickly found Joyce for another passing six-pointer. Going for two points the Indians said "no way" as the scoreboard showed it was 26-0 in the 'Skins favor as halftime soon rolled around.
A lackluster third-quarter saw both teams stumbling about despite Zach Canimore and Bobby Buchys both showing great hands as they hauled in McAndrew passes. And then just when it seemed not a point would be scored in the third, and with the clock showed just 10 seconds remaining, Hebron took a handoff and shot up the middle on a 48 yard touchdown sprint. A tipped snap killed the PAT and the score stood at 32-0 for the Wilmotmen.
The fourth-quarter then had plenty of underclassmen on the field as both teams rested their starters. A highlight, though, was Canimore's 54 yard jaunt after pilfering a North pass which might have seen the last score of the game had he not been forced out of bounds just within sight of nirvana. With the gun sounding the end of the game soon enough the Redskins were quickly enjoying their usual post-game cheering huddle as they celebrated the win.
Then a huge thank you Coach McHugh and all the folks at Council Rock North for the hospitality they showed. And hats off as well to the many Neshaminy fans that make the trek each week to cheer on the Redskins. And always in style, the Redskins 8 showed up in their Hawaiian shirts.
Next week's game is Homecoming and it will be played on Saturday at 1:00 PM. It's going to be packed so get there early for your seat and so you have time to stop by all of the student's tables, visit the Pride Stand and catch up with old friends. And don't forget, the 'Skins will be hosting Head Coach Mike LaPalombara and his 4-0 Truman Tigers who have been ripping up the gridiron this season.
Captains for tonight's game: #5 Oleh Manzyk, #10 Mike Garlick, #25 Cory Joyce and #74 Jacob Kelly
Good night Mrs. B!
Boxscore
| Game 4 | 1 | 2 | 3 | 4 | F |
| --- | --- | --- | --- | --- | --- |
| Neshaminy | 7 | 19 | 6 | 0 | 32 |
| Council Rock North | 0 | 0 | 0 | 0 | 0 |
| Team | Qtr | Time | Description | NHS | OPP |
| --- | --- | --- | --- | --- | --- |
| N | 1 | 6:37 | 49 YD TD reception by Mike Garlick and Matt Leonhauser kick is good | 7 | 0 |
| N | 2 | 10:22 | 33 YD TD Run Cory Joyce on interception and Leonhauser kick is good | 14 | 0 |
| N | 2 | 2:52 | 1 YD TD run Oleh Manzyk and snap is botched | 20 | 0 |
| N | 2 | :24 | 20 YD TD reception by Joyce and 2 point coversion attempt fails | 26 | 0 |
| N | 3 | :10 | 48 YD TD run Savion Hebron and Leonhauser kick is tipped | 32 | 0 |
Photos
Photos courtesy of RMD Creative Design
WBCB Players of the Game
Brought to you by Faulkner Auto Group
Offense - Savion Hebron, RB
Brought to you by Faulkner Auto Group
Defense - Giovanni Fiqueroa DL
Sterling Limousine Players of the Week

Defense Third star: Giovanni Figueroa, Neshaminy
The senior defensive lineman led the Redskins' defense with seven tackles – two for a loss – in Neshaminy's 32-0 win over Council Rock North that saw the Indians collect just 84 total yards.
Honor Roll: Savion Hebron, Neshaminy
Honor Roll: Cory Joyce, Neshaminy