Media Crew
The Neshaminy Reskins has a great deal of depth in the folks who support the program. Take for example. the fantastic support from our media guys - Photographer, Jesse Garber and Videographer, Matt Bartolacci and Jack Haston. Without these pros, this site would not look like it does. The Media Guide that you purchase at games would not have the availability of quality material to use in print work.
To take photos on a field with poor lighting and shoot at high shutter speed to freeze the player in action is a daunting task. Even with a " Perfect Eye", you are lucky to get 100 good football action photos out of every 300-400 you shoot. You need the proper high level equipment and a lot of skill.
To be able to be positioned on the sidelines at the right time and the right place with a video camera and not miss a monumental play, well that requires a great deal of experience and know-how. You then have to take that video and edit it over many hours. That we have the caliber of video that you see for every Neshaminy game is a sign of Matt and Jack's quality workmanship.
We are blessed to have very talented media people on our sidelines every game. Their consistency and commitment to the program is to be commended. Not every player can open their website to see the photos and watch the video so quickly. We burn the Friday Night into Saturday Morning Lights, after all the photos have loaded, to ensure that your slideshow is ready on Saturday morning.
Media an integral part of every serious football program. Excellent media goes a long way to keep the golden legacy of the Redskins intact.
Jesse Garber
Jesse Garber, Photographer:
Jesse has been seen on the sideline of Skin's games for over 19 years. He is a Pharmacist by day, a B-Baller by night and a photographer by choice.
His photos are displayed in the halls of Neshaminy High School and he covers many of their sports programs. He has recently expanded his body of work to include coverage of the The Philadelphia Eagles, Trenton Freedom & Philly Soul Semi-Pro Football Teams as well as Temple University Football and Villanova Basketball. He also has a wide range of High School sports galleries from across the city of Philadelphia and covers many local events. His photos have been used by local news sources such as philly.com & gametimepa.com.
He has what they say in the business a "good eye". We are grateful for his body of work and we cannot thank him enough for all that he does to capture lifetime memories for the Neshaminy community.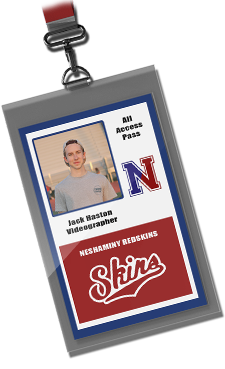 Jack Haston
Jack Haston, Videographer:
Jack assisted Matt Bartolacci from 2012 through 2019. He created some of our most memorable season intros. He graduated from Neshaminy High School in 2015. Jack graduated from The University of the Arts in Philadelphia where he majored in Film Production. Presently, he works for Alert! The Media where he films a variety of sports segments that are made into highlight, and recruiting videos. He started his own production company, Anomoly Films where he works with companies such as SkyZone, Precision Pro Golf, The Philadelphia Citizen, The Philadelphia 76ers and other recruiting companies.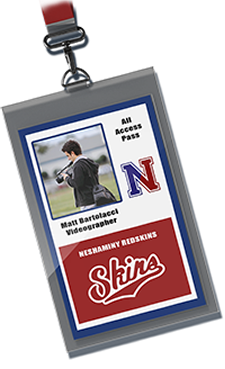 Matt Bartolacci
Matt Bartolacci, Editor, Videographer and Producer:
Matt did the Neshaminy football game videos from 2004 to 2019. He is an alumni of Neshaminy High School. Jack Haston replaced him, taking over the heavy lifting.
Matt is a graduate of Temple University where he earned his BA in Film and Media Arts . He presently works at Bowstring Studios where he has worked with such clients as NBC Sports, 6ABC, GMR, Mindshare Entertainment, Comcast, HP, Xenith, Sicksports, Net App, Target X, Saint Joe's, Bloomsburg, & Lehigh University and Ursinus College. He also owns Bartolacci Wedding Films.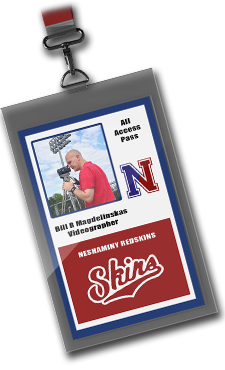 Bill Magdelinskas
Bill R. Magdelinskas, Videographer:
Bill has been filming the Neshaminy High School Football games for an amazing 30 years. He especially remembers the exciting decade of the 90s. He has worked every Redskin Playoff Game and was there for the 2001 State Championship win and the State 2004 game. Even if you take the minimum 10 games a year and add up the years, he has worked at least 300 Redskin games. Wow! The videos that Bill creates is uploaded to HUDL and assists with training, recruiting videoa and post-game player reviews.
Bill graduated from Neshaminy High School in 1987. He is a Systems Analyst by day and lives in Feasterville with his family. And yes, if that name seems familiar, he is a member of the Magdelinskas clan.