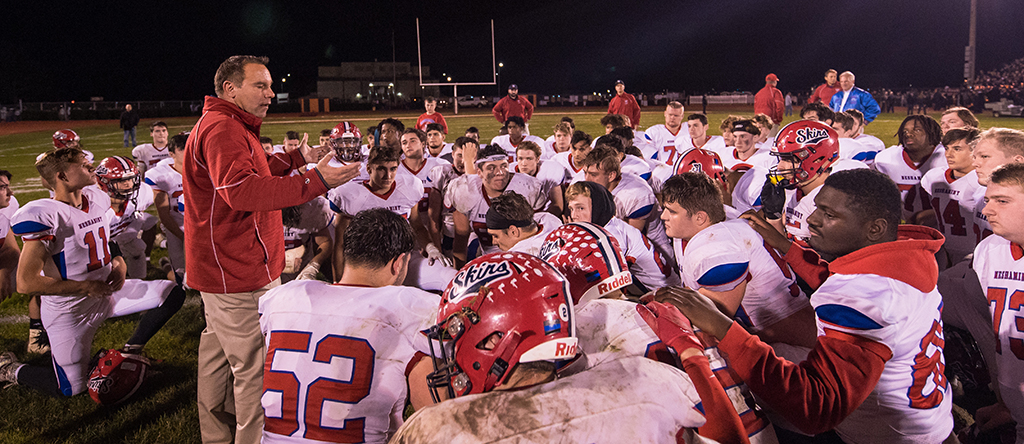 Big shout out to all the folks who did so much for the 2019 program. First, the coaches for the countless months of work and preparation they do each and every year. They give up time with their families to teach Neshaminy players the game of football as well as many important life lessons. They have impacted so many young men in such a positive way and that is something to be grateful for. Second, the N Club who works behind the scenes to bring the best of Redskin football to the players, coaches and the community. Thank you. We also want to acknowledge all the hours of lifting, film study and practice that the players go through during the year. Their commitment is an honorable one. You gave us all some thrilling moments this season that we will always remember. Recognition also goes to the Neshaminy community who year in and year out show up for all the games whether they be home or away. They are ever faithful followers of the program and die hard fans through thick and thin and a team could not ask for more. Let's not forget the school staff that supports the program in a big way – from the Athletic Director to the folks who prep the field for game day – all of your support is appreciated.
To the Seniors – we wish you all the best as you go out into the world to find your way. For many of you, tonight was last the official game of football you will play. Know that you were once a Redskin and we hope you carry that pride in your heart always.
Time will never dim the glory of the Neshaminy Redskins…Harry E Franks
Good night Mrs B!
---
Boxscore
| Game 10 | 1 | 2 | 3 | 4 | F |
| --- | --- | --- | --- | --- | --- |
| Neshaminy | 0 | 7 | 6 | 0 | 13 |
| Pennsbury | 7 | 0 | 14 | 7 | 28 |
| Team | Qtr | Time | Description | NHS | OPP |
| --- | --- | --- | --- | --- | --- |
| P | 1 | 1:55 | JayVon McNeill 1 yard TD run and Brady Burgfechtel kick is good | 0 | 7 |
| N | 2 | 0:22 | Brody McAndrew 11 yard TD pass to Ian Sheehan and Jack Hughes kick is good | 7 | 7 |
| P | 3 | 6:16 | JayVon McNeill 1 yard TD run and Brady Burgfechtel kick is good | 7 | 14 |
| P | 3 | 2:39 | Brad Mickles 7 yard TD run and Brady Burgfechtel kick is good | 7 | 21 |
| N | 3 | 0:33 | McAndrew 34 yard TD pass to Gavin O'Connor and kick is no good | 13 | 21 |
| P | 4 | 3:08 | Brad Mickles 38 yard TD run and Brady Burgfechtel kick is good | 13 | 28 |
---