The Big Picture 25 – It's Almost Time
The BIG Picture
BY Paula G.
Ace Sports Reporter
It′s almost time!
June 30, 2011
LANGHORNE: The season (that's what I mean). Just think about it, once we hit the July 4th weekend it's just another six weeks or so before pre-season practice kicks off and the first game is then Friday, September 3rd. Why that's practically tomorrow (more or less). So we all better start dragging our Redskins shirts, jackets and "colors" out of storage as it won′t be long at all till we'll all be piling into Harry Franks Stadium up on "The Ridge" to start enjoying another season of exciting 'Skins football.
All Star games feature Redskins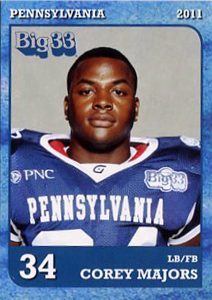 Congratulations to some of our now graduated Redskins who played in the Bucks County Lions Club All Star game as well as the Big 33 "Classic". Both games were played just recently (the Bucks County game at War Memorial Field in Doylestown on Monday, June 13th featuring the South Bucks County teams versus the Northern clubs and the Big 33 in Hershey on Saturday, June 18th which saw Pennsylvania's top players line up against Ohio's elite footballers). Anyway, the Bucks County contest saw Charlie Marterella, Dwight Williams, Ryan Katona, Shane Quinn, Tyler Masterson, Nick DiDonato and Anthony Woodroffe – seniors on Neshaminy's 2010 team – suit up for "our" side while Corey Majors, also a senior in '10, represented PA in the latest tilt against the Buckeye boys. Plus a special congratulation goes out to Dwight Williams for being selected as the South's MVP. And if anyone wants to know how the games turned out … well, the South came up a bit short as did Pennsylvania (the ball sure can take crazy bounces now, can't it).
Coach Schmidt plans summer camps for the youngsters
Coach Schmidt and his staff (featuring help from former Redskin players) will be holding their annual summer football camp up on Neshaminy's playing fields on Monday, July 11th though Friday, July 15th (from 8 am to 12 noon each day). It's a great opportunity for aspiring young players to begin getting themselves familiar with the Redskins' grid program while learning basic football skills too. More importantly – it's fun. So if your boy (or girl) is interested, contact Coach Neil French by emailing him directly at nfrench8@verizon.net or call Neshaminy's Athletic Department for more information on the camp they run. (Note this site is not involved in the summer camp and has no information on costs, requirements, equipment or otherwise other than the dates and time so information must be secured as indicated – thank you.)
Go Redskins!