The Big Picture 16 – That In Between Time
The BIG Picture
BY Paula G.
Ace Sports Reporter
Yep – it's that old "in-between" time!
April 15, 2010
Langhorne: First of all, and for those of you who may have become a little worried, there′s no need for it (the worry, that is) as I'm still here – alive and kicking. And if you've been wondering what I've been doing, well, just like the rest of you (I suspect), I'm counting the days till two-a-days start (call it 160 or so for purposes of discussion). Course, over here at "the site" ("the site" – wow, that almost sounds a little like "The Streak"), when we're not circling the calendar, we're also doing a few other things that need to be done in the off-season as in "house cleaning", as Bob calls it – except it's not dusting. You see this is when we get to updating stats, rolling over the season records, setting templates in place for the coming campaign, bringing everything current and on and on (including putting together the "Great Moments" and working on those "era" features about a coach or player or what have you). So it's not all a lost cause as this down time between what we all live for (football, especially Neshaminy football), does give us a chance to sort it all out.
Plus we did have some fun a month or so back when we got to watch Dan Shirey and his Villanova Wildcats take the NCAA Division I Football Championship Subdivision with that exciting 23-21 win over Montana. Way to go 'Cats! And way to go Dan! Plus a bunch of the 2009 Redskins players picked up a pile of post-season awards and notoriety with Bryan Dean leading the pack when he pulled down an Associated Press First Team all-state selection (all-purpose). Additionally, Corey Majors received 3rd team honors (linebacker), with Dean selected Honorable Mention as well, in the Pennsylvania Football News 4A lists (as an aside, and in case anybody's counting, that gives the Tribe a total of 41 players who have been selected all-state since Harry Schuh started it all off in 1959). So congratulations guys (and congratulations to all the Blue and Red gridders that the made the 2009 local, regional and statewide all-star teams).
Boy, kinda makes you wish you were gearing up for a game this Friday (well – soon enough).
---
The Tom Beccone Collection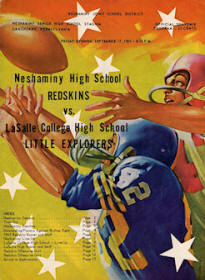 First of all, since you might be wondering who Tom Beccone is (as in The Tom Beccone Collection) – let me explain. Tom is a Redskin through-and-through who graduated from dear old Neshaminy High in 1967. And as a gridder, he played under Head Coach John Petercuskie in 1964 and 1965 and then Head Coach Tom McHugh in 1966 (while also enjoying the opportunity of rubbing elbows with some of the greatest assistant coaches in Neshaminy's history). And as an offensive guard he also saw plenty of action in those days gone by (imagine opening holes for guys like Jimmy Colbert, Gerry Barr, Dave Rakita, Gary Pasquine, Ernie Forchetti, Andy Cunningham, Tommy Thompson, Bob Rotolo, Ted Kaminski and the other fellows from those days – gives you Goosebumps, doesn't it).
Anyway, here's where it gets interesting. Tom is also a collector (a pack rat actually). And what he collected and saved from his days in Langhorne were 31 pristine game programs from 1963 through 1966, over 70 original photographs and four years of newspaper articles (and do I even need to say that all that stuff centered on our beloved football team – I didn't think so).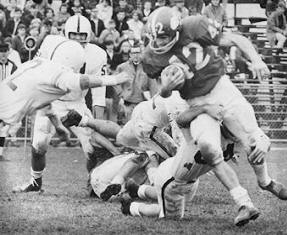 Fortunately, Tom recently decided that rather than continue to let all that very important memorabilia gather any more dust in his attic, he'd ship it to the Neshaminy football dot com staff to use as we saw fit (can you say "silver-dollar sized eyes" as that's how we looked when we opened those boxes – in fact, I for one mentioned to Bob that I felt a little like Howard Carter peering into King Tut's tomb as we were pulling those jewels out of their shipping boxes). Needless to say, after a month of staying up late and admiring the treasure trove Tom sent us (wearing cotton gloves, of course, and keeping the temperature and humidity just right), we finally finished scanning the photos and programs and we now have them up on the site so all of you can enjoy them too. Just click on the link below and you'll be taken on a trip down memory lane (or at least to the "Video and Photo" section of this site and right into the '60s section with all the new stuff marked "new" – and you'll also note we now have over 3,000 images, pictures, programs, articles, etc. from the 80 plus years that our boys have been suiting up). By the way, we left out the newspaper articles but they′ll come later as we didn't want to spoil everybody (and they require some special handling but rest assured there are some absolute gems so the wait will be worth it).
So for now – that's about it. Enjoy the updates! And thanks again Tom, we sure do appreciate it as this site is built on guys like you along with all the fans, families and players who have made their collections available. Plus if anyone else out there has a picture, a program or anything else that we can use – send it our way and we′ll make sure the entire Redskin family can continue to enjoy the rich gridiron history that has been assembled by our players and coaches. Okay then, keep watching as we have plenty more stuff coming your way (including a big surprise for the 2011 season).