2004 Coaching Staff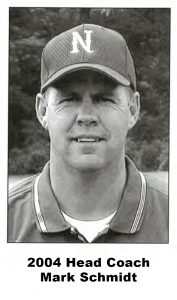 Coach Mark Schmidt is entering is tenth season as Redskin Head Coach. Prior, he served six seasons as Offensive Line Coach and Recruiting Coordinator at Lock Haven University. There, he was instrumental in implementing the Run & Shoot offense, which was nationally ranked during his last three seasons. As Recruiting Coordinator, Schmidt was no stranger to the Suburban One Conference, actively recruiting high school players throughout Southeastern Pennsylvania, Southern New Jersey and Delaware.
Prior to Lock Haven, Schmidt coached under Jerry Berndt at Temple University and the University of Pennsylvania. At Penn the team earned Ivy League Championship honors both seasons he was there. He also was a Tight End Coach under Jerry Claiborne at the University of Kentucky.
Schmidt's first coaching experiences actually came in the Suburban One Conference, when in 1982 and 1983, he coached under the direction of close friend and Norristown Area High School head coach Roger Grove. During those years, Norristown won back-to-back Suburban One Conference Championships.
A Graduate of Lower Moreland High School, Schmidt earned a Bachelor of Science Degree in Physical Education from Ursinus College, where he was an All-Conference linebacker. Schmidt currently resides in Plymouth Meeting, PA, with his wife Maribeth and their daughter Erica, born February 26, 1997 and twins Lindsey and Jack born December 22, 2002.
Steve Wilmot
Offensive Line/Strength Coach: This is Steve's 10th year coaching the Redskins. Coach Wilmot grew up in Flourtown, PA and went to Springfield High School (Montco). From there he was an offensive lineman and graduate assistant for five years at Lock Haven University under Coach Mark Schmidt. Steve is a science teacher at the Tawanka Learning Center in the Neshaminy School District. He is also a certified strength and conditioning specialist certified through the NSCA. Coach Wilmot is single and resides in Langhorne.
Jay Weidenbaugh
Defensive Backs: Coach Weidenbaugh graduated from Spring-Ford High School. He attended West Chester University and earned a B.S. Degree in Physical Education. He also has a M.Ed. in Secondary Education from the University of South Carolina. Coach Weidenbaugh has 25 years of coaching experience at both the high school and collegiate levels. His wife Tina is the sev­enth grade principal at the new Springfield Flex school.
Dan Kelly
Running Back Coach: Dan is a 1989 Graduate of Bensalem High School. He graduated from Temple University with a Bachelors Degree in Health and Physical Education. He has taught Health and Physical Education at Bensalem High School for the past three years. Currently, he is a substitute teacher in the Neshaminy School district. He began his coaching career as an assistant coach at Neil Armstrong Middle School and then moved to an assis­tant coach at Bensalem High School's Varsity Football team. Dan also played semi-professional football for ten years. Dan is married to Dawn Kelly, principal at Carl Sandburg Middle School, and they have a six year old son named Hunter. They reside in the Neshaminy School District. Coach Kelly enjoys traveling and spending his free time with his family.
Paul Picciotti
Defensive Line Coach: Paul Picciotti, a native of Chalfont, PA, graduated from Central Bucks West H.S. in 1997. While attending West, Paul was a standout line­backer as well as an excellent tight end for Head Coach Mike Pettine, Sr. After high school Paul accepted a full scholarship to the University of Rhode Island where he was a 4-year starter as a linebacker. While at Rhode Island Paul was also a 3-year All-Conference selection, earning him All-American stars during his senior year. When finishing his career at Rhode Island, he was the university's all-time leading tackler with a grand total of 388 tackles. After graduating from the University of Rhode Island in 2002 with a degree in Physical Education and Exercise Science, he decided to further his education by becoming a graduate assistant at Southern Arkansas University. There he coached the wide receivers, while earning a Master's Degree in Kinesiology. A year later, Paul was back at the University of Rhode Island as an assistant football coach with the responsibility of coach­ing wide receivers.
Paul Coleman
Defensive Line Coach: This is Coach Coleman's second year at Neshaminy. Coleman is a 2000 graduate of Widener University, where he played football for four years. Following graduation, Coleman became employed at Merrill Lynch. In 2003, Coleman received his business edu­cation certificate from Gwynedd-Mercy College. Coleman now teaches in the business department for Neshaminy High School.
Ray Jones
Assistant Offensive Line Coach: Coach Jones is entering his 6th year coaching at Neshaminy. Coach Jones attended Kutztown University. He has over 20 years of coaching experi­ence. Coach Jones runs his own real estate business and lives in Langhorne with his wife Kelly and three kids: Austin, a junior who plays football at Ursinus College; Joscelyne who is a senior at Neshaminy and a basketball player; and Mason who is six and entering kindergarten.
Roger Grove
Quarterback and Wide Receiver Coach: Coach Grove is a graduate of West Chester University where he earned a BS degree in Health and Physical Education. At West Chester he lettered in football three years and played in two Tangerine Bowls as a running back. He taught Health and Physical Education at Norristown High School for 35 years retiring in 2003. While at Norristown, Roger was the head football coach for 27 years with a record of 209-98-6. Roger is a member of the West Chester University Football Hall of Fame, and the Pennsylvania Football Coaches Hall of Fame. Roger and his wife Peggy have a son David, and a son Michale and his wife Colleen.
Jim Jenkinson
Assistant Coach/Statisician: This is Coach Jenkinson's sixth year with the Neshaminy Redskins. Prior to joining the Redskins he coached for the Penndel Wildcats for nine years. A 1990 graduate from Penn State, Coach Jenkinson resides in Levittown with his wife Liz and their two daughters Emily and Jamie.
Joe Mustang Foster
Administrative Assistant: This is Coach Foster's eighth year with the Neshaminy Redskins. He is a 1967 Neshaminy grad­uate. He attended Trenton State College and gradu­ated in 1983 with a B.A. in History Education. Coach Foster is U.S. Army retired and recently retired from the PA Liquor Control Board in New Hope, PA. Coach Foster resides in Stockton, NJ.
Neil French
Linebacker Coach: Coach French is entering his third season as a Redskin Linebackers coach. He is a graduate of Notre Dame High School, Lawrenceville, NJ and earned a Bachelor of Science Degree in Secondary Education from Villanova University in 1998. He also completed a Masters Degree in Educational Administration from Gwynedd Mercy College in 2002. Coach French began his coaching career in 1998 at Maple Point Middle School, where he has coached Freshman Football, Freshman Baseball, and 8th Grade Basketball. This will also be his sixth year as a Social Studies teacher at Maple Point. Coach is engaged to Jennifer L. Dawson (Neshaminy '94) and will be married on December 18. He resides in Levittown.
John Chaump
Defensive Coordinator: John is a graduate of Wilkes College '69. He is retired teaching. He had tough Biology for 34 years at Neshaminy. He was the former Head Coach at Maple Point High School '75-'80, Morrisville High School '81-'82, Neshaminy High School '87-91. Coach Chaump is the husband of Patricia for 31 years and proud father of John 27, Tom 26, Rachel 23, and Mark 22. John will be inducted into the Neshaminy High School Football Hall of Fame this year.
Skip Evans
Assistant: This is Coach Evans' fourth year with the Neshaminy Redskins. Prior to joining the Redskins he coached at Penndel and at Sandburg Middle School. Coach Evans resides in Levittown with his wife Terri, their daughter Nikki, and son Ryan.