2022 Coaching Staff
Head Coach Steve Wilmot
Head Coach:This is Coach Wilmot's 28th year coaching with the Redskins. Coach grew up in Flourtown, PA and went to Springfield Montco HS. He played under Coaches Bob Malehorn & Coach Dave Puchulski. He then went on to play at Lock Haven University, where he was captain his senior year & played for 4 years under his Offensive Line Coach Mark Schmidt. Coach Wilmot has been teaching for 21 years at Neshaminy, 10 years at the former alternative school, & 11 years as a biology teacher at the high school. He is a certified strength and condition coach certified through the NSCA. He is married to Jennifer, a 5th grade teacher at Carl Sandburg, & has a step-son Shane (21), son Jason (14) and a faithful dog Arrow.
Jay Weidenbaugh
Co-Defensive Coordinator/Defensive Backs: Coach Weidenbaugh graduated from Spring-Ford High School. He attended West Chester University and earned a B.S. degree in Physical Education. He also has a M.Ed. in Secondary Education from the University of South Carolina. Coach Weidenbaugh has 40 years of coaching experience at both the high school and collegiate levels. His wife Tina is principal of the Spring-Ford High School in Royersford.
Neil French
Co-Defensive Coordinator/Linebackers: Coach French is entering his 21st season as the Redskins' Co-Defensive Coordinator and Linebackers coach. Coach is a 1994 graduate of Notre Dame High School in Lawrenceville, NJ. He earned a Bachelor's Degree in Secondary Education from Villanova University in 1998 and a Masters Degree in Educational Administration from Gwynedd Mercy University in 2002. Coach French is the Assistant Principal at Maple Point Middle School, where he previously served as a Social Studies teacher, Student Council advisor, 7th Grade Boys Basketball head coach and 8th Grade Baseball head coach. Coach resides in Langhorne with his beautiful wife Jennifer (Neshaminy '94) and daughters Julia (15) and Addison (13). He would like to thank his family for their love, support, and the many sacrifices they make on his behalf during the season.
Kevin Kelly
 Quarterbacks: This is Coach Kelly's 8th year at Neshaminy. Coach and his wife Dianne reside in Levittown and are the proud parents of 3 Neshaminy High School graduates. Coach has 27 years experience coaching at the high school level and served as a head coach at Conwell-Egan and Bensalem. Coach is honored to be a part of a program with such a proud history and a tradition of excellence. Coach Kelly has been employed by Legacy Treatment Services for nearly 27 years and currently serves as the VP of Adolescent Residential Services.
Tom Coates
Defensive Line: This is Coach Coates' 10th year at Neshaminy. He graduated from Abraham Lincoln HS in Philadelphia, earned a BS degree from West Chester University and finished graduate school at Penn State University. Coach Coates retired from teaching in 2016 and is entering his 41st year coaching football. His daughter Kellie, is Mom to Reesie and Liam and a teacher in Downingtown School District. Son Tom and his wife, Jessi (Neshaminy Alum) are parents of sons TJ, Connor and Tyler and are owners of Transcend Fitness in Newtown. Son Joe is a Sgt in the US Army, currently stationed at Fort Drum and daughter Alyssa is pursuing her license in hair dressing and cosmetology. "I've enjoyed many great coaching experiences over the years, but consider my time at Neshaminy some of my most memorable.
Charlie Marterella
Wide Receivers: Coach Marterella is entering his 7th year on the Neshaminy Football coaching staff. He is a 2011 graduate of Neshaminy High School and a former player on both the varsity basketball and football teams. Coach Marterella was the starting quarterback on the 2010 football team. With a record of 12-2, the team won the SOL National and was the District 1 runner up. Coach Marterella graduated from Delaware Valley University in 2015 with a BS degree in Secondary Education. He was also a member of the football team at DelVal University, with two career starts at quarterback. Coach Marterella teaches 7th Grade Social Studies at Maple Point.
Ryan Katona
Offensive Line: Coach Katona is entering his 6th year on the Neshaminy football coaching staff. He is a 2011 graduate of Neshaminy High School and a former player on the football team. Coach Katona was both an offensive & defensive lineman on the 2008-2010 football team. With a 2010 record of 12-2, the team won the SOL National title and was the District 1 runner up. Coach comes to us from the football coaching staff of Harry S. Truman where he coached the defensive line for two years. Coach Katona graduated from Delaware Valley University in 2016 with a BS degree in Secondary Education with a Major in Social Studies.
Ray Kelly
Assistant Offensive Line: Coach Kelly has a 46-year career in education, 32 years of those as a Neshaminy Teacher, Coach, Athletic Director, Assistant Principal, and Principal. He has over 30 years of coaching experience in a variety of sports. He was one of the founding coaches of what would become the Lower Makefield Football Association. Coach Kelly was a co-founder of the Neshaminy Football Hall of Fame. He is also a nationally certified coaching instructor with the American Sport Education Program. Coach Kelly gratefully thanks Coach Wilmot for giving him the opportunity to return to teaching Neshaminy athletes. For 54 years, his wife, Patty, has supported his efforts on behalf of kids and Neshaminy athletics. Her selfless support allows Coach Kelly to continue to follow his dreams.
Ed Mitchem
Linebackers: Coach Mitchem is entering his 5th season coaching defensive tackles with the Redskins. He is a 2007 graduate of New Oxford High School in New Oxford, PA and earned his Bachelors in Elementary Education from Albright College in Reading, PA in 2012. Coach Mitchem came to Neshaminy School District in 2017 and teaches 5th grade Science and Social Studies at Maple Point Middle School. Coach Mitchem married his wife Kaitlin in June of 2018 and they currently reside in the Norristown area.
Ray Yedman
Offensive Line Assistant, Tight Ends & Special Teams: Coach Yedman is in his 3rd season with the Varsity Staff. He is a 1994 Graduate of Pennsbury HS, and a former Falcon Linebacker & Center. He spent 5 years coaching at Lower Makefield Football Association winning 2 Championships. He also served as a Board Member for 4 years with the organization. Coach Yedman is an entrepreneur who owns multiple businesses. He has 3 children, Ray, Jr (Former NHS Marching Band Trumpet Leader) who is Sophomore at Kutztown University, Ryan, a Junior Football Player with the Redskins, and his daughter Caycie, who attends Carl Sandburg Middle School. Coach Yedman would like to thank Coach Wilmot and the rest of the coaches for all of mentorship the past 3 years. Coach Yedman is very excited for the 2022 Redskins Team!
Vince Sannelli
Defensive Line: Coach Sannelli is entering his 2nd year with Neshaminy football after previously serving on the Pennsbury staff where he coached the Defensive line for the past five years. Coach is a 1990 graduate of Neshaminy High School and a member of the Neshaminy Football Hall of Fame. Upon Graduation he served in the United States Marine Corps. Coach is employed at Origlio Beverage, he resides in Yardley Pa. with his wife Simone (Neshaminy class of 90) and their three boys Dominick, Dante and Rocco.
Ed Place
Defensive Backs: Ed Place returns to our football staff as a defensive assistant after rejoining the staff in 2019 as a receiver's coach. He retired as a Neshaminy Health & Physical Education teacher in 2018 after over 30 years of service and holds a Master's degree from The College of New Jersey. Ed coached football at The College of New Jersey (23 years), Delaware Valley College (1 year), Bensalem High School (7 years), and Neshaminy High School (8 years). In addition, he coached Neshaminy High School baseball for 7 plus years. Ed rounds out his experience with nearly 16 years of high school track and field coaching experience for girls and boys. Both of Ed's daughters graduated from Neshaminy and he currently resides in Langhorne with his wife, Diane..
Ian Bell
Running Backs: Coach Bell is entering his first year with Neshaminy football and his 16th year coaching football. He most recently served as the offensive coordinator at Pennsbury where he coached for 10 seasons after coaching 5 seasons at Bensalem High School. He is a former Bensalem High School student and football player. In 2007, Coach Bell graduated from Ursinus College where he played defensive line on the football team. Coach Bell currently teaches math at Conwell-Egan Catholic High School and resides in Bensalem.
Chuck Lumio
Speed and Agility Development: Coach Lumio is a 1987 Neshaminy HS graduate. He earned his B.S. degree from the Univ. of Miami. Coach Lumio was a member of the Hurricanes Men's Track & Field Team where he set 3 school records. He earned his Master's degree from Temple University. Coach Lumio is currently an 8th grade Science teacher at Maple Point MS. He was the track and field coach at NHS for 18 years and Maple Point MS for 4 seasons. He resides in New Hope with his wonderful wife Renee, and boys Mason & Chase."Our speed development program aims to integrate the training techniques used in track & field to make our football team faster and more agile for a changing game."
Nick Rapciewicz
Administrative & Statistician: Coach Rapciewicz is entering his 4th year on the Neshaminy football coaching staff. He grew up in East Windsor, NJ and attended Hightstown High School where he graduated in 1994. He also has a degree in Business Management. He has resided in Langhorne for the past 12 years with his wife Tiffany. They are the proud parents of their daughter Isabella. She is going into 9th grade at Neshaminy High School. Coach Rapciewicz is an Operations Manager at Acre Windows & Doors in Horsham, PA. He is grateful that Coach Wilmot has given him the opportunity to be a part of the wonderful tradition that is Neshaminy Football. The staff here at neshaminyfootball.com personally thank Coach Rapciewicz for his work into Saturday mornings! He is an integral part of the stats we use to update each game.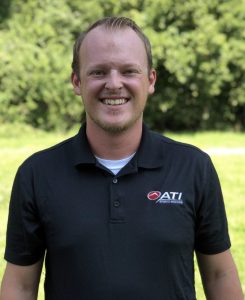 Justin Lewis
Trainer: Justin is entering his 2nd year as the athletic trainer for ATI Physical Therapy at Neshaminy High School. He first came to Neshaminy in November 2020. Originally from Boiling Springs, Pa, he attended Boiling Springs High School. He received his Bachelor of Science in Athletic Training degree from Waynesburg University where he worked with many collegiate teams such as Waynesburg University's football, basketball and soccer teams as well as Waynesburg Central High School teams. He and his fiancé, Emily, moved to Feasterville-Trevose after completing college in 2020. They look forward to being able to support their new community.