Ad Programs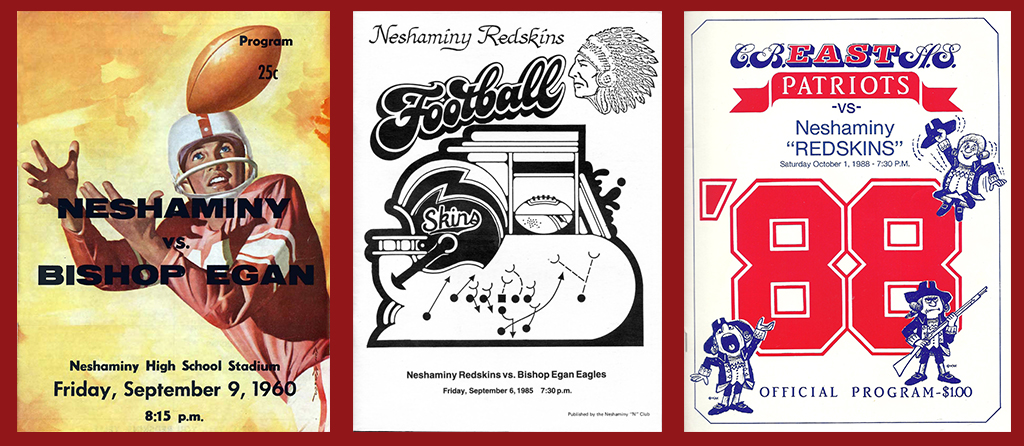 We have gathered together many ad programs that we have collected over the years. Shout out to our local Minute Man Press for doing such a great job scanning all these books! Thanks go out to Bob and Patricia Barr, the Sannelli family, Jesse Lamberth, Steve Cloak, Craig Johns, Don Cameron family, our own dear Coach Mustang, our own Paula G, the Wayne "Inky" Schneider clan, Coach Wilmot, AD Mr. Tom Magdelinskas, Frankie McDermott, Bruce Traney and many more for sharing their collections! We are so grateful! Here are just a few of our Ad Programs of them. Click on the game below to see the complete ad program. Enjoy and remember to support our sponsors!
 A lot of work went into compiling and archiving these programs and many contain team photos of both NHS as well as their Opponents, making them a source of media of the school's football history. All games are named NHS Vs XXXX even when the game is an away game. All other schools are welcome to view and download copies of these ad programs but we ask that you throw a link and shout out to this site.
We welcome any and every ad program but here are a few years we are specifically looking for – 1990, 1983, 1973, 1968, 1953, 1952, 1949 and back.
| Year | Month | Date | NHS | |
| --- | --- | --- | --- | --- |
| 1950 | 9 | 30 | NHS Vs Riverside | View |
| 1950 | 10 | 6 | NHS Vs Jenkintown | View |
| 1950 | 10 | 13 | NHS Vs Lower Moreland | View |
| 1950 | 10 | 20 | NHS Vs Council Rock | View |
| 1950 | 10 | 27 | NHS Vs Bristol | View |
| 1950 | 11 | 3 | NHS Vs Southampton | View |
| 1950 | 11 | 23 | NHS Vs Bensalem | View |
| 1954 | | | Stan Covington's Playbook | View |
| 1954 | 10 | 9 | NHS Vs Delhaas | View |
| 1954 | 10 | 29 | NHS Vs Bristol | View |
| 1954 | 11 | 19 | NHS Vs Pleasantville | View |
| 1954 | 12 | 9 | Banquet | View |
| 1955 | 10 | 21 | NHS Vs Bristol | View |
| 1955 | 10 | 28 | NHS Vs Wm. Tennent | View |
| 1957 | 9 | 20 | NHS Vs Upper Dublin | View |
| 1957 | 10 | 4 | NHS Vs Allentown | View |
| 1957 | 10 | 11 | NHS Vs Bristol | View |
| 1957 | 10 | 18 | NHS Vs Wm. Tennent | View |
| 1957 | 11 | 8 | NHS Vs Council Rock | View |
| 1957 | 11 | 28 | NHS Vs Bensalem | View |
| 1958 | 9 | 12 | NHS Vs Chester | View |
| 1958 | 10 | 11 | NHS Vs Wm. Tennent | View |
| 1958 | 10 | 31 | NHS Vs Council Rock | View |
| 1958 | 11 | 7 | NHS Vs Morrisville | View |
| 1958 | 11 | 13 | NHS Vs Delhaas | View |
| 1959 | 9 | 11 | NHS Vs Bristol | View |
| 1959 | 9 | 18 | NHS Vs Pennridge | View |
| 1959 | 9 | 25 | NHS Vs Wm. Tennent | View |
| 1959 | 10 | 2 | NHS Vs Council Rock | View |
| 1959 | 10 | 9 | NHS Vs Easton | View |
| 1959 | 10 | 16 | NHS Vs Woodrow Wilson | View |
| 1959 | 10 | 23 | NHS Vs Lower Merion | View |
| 1959 | 10 | 31 | NHS Vs Morrisville | View |
| 1959 | 11 | 6 | NHS Vs Pennsbury | View |
| 1959 | 11 | 26 | NHS Vs Bensalem | View |
| 1960 | 9 | 9 | NHS Vs Bishop Egan | View |
| 1960 | 10 | 14 | NHS Vs Morrisville | View |
| 1960 | 11 | 11 | NHS Vs Council Rock | View |
| 1960 | 11 | 19 | NHS Vs Bensalem | View |
| 1961 | 9 | 8 | NHS Vs Bishop Egan | View |
| 1961 | 9 | 15 | NHS Vs Chester | View |
| 1961 | 9 | 22 | NHS Vs Easton | View |
| 1961 | 9 | 29 | NHS Vs Allen | View |
| 1961 | 10 | 6 | NHS Vs Bristol | View |
| 1961 | 10 | 13 | NHS Vs Wilson | View |
| 1961 | 11 | 3 | NHS Vs Tennent | View |
| 1961 | 11 | 11 | NHS Vs Del Twp | View |
| 1961 | 11 | 17 | NHS Vs LaSalle | View |
| 1961 | 11 | 23 | NHS Vs Bensalem | View |
| 1962 | 9 | 14 | NHS Vs Chester | View |
| 1962 | 9 | 21 | NHS Vs Easton | View |
| 1962 | 9 | 28 | NHS Vs Allen | View |
| 1962 | 10 | 5 | NHS Vs Liberty Bethlehem | View |
| 1962 | 10 | 12 | NHS Vs Wilson | View |
| 1962 | 10 | 20 | NHS Vs Pennsbury | View |
| 1962 | 10 | 26 | NHS Vs Delhaas | View |
| 1962 | 11 | 3 | NHS Vs Tennent | View |
| 1962 | 11 | 9 | NHS Vs Kendrick | View |
| 1962 | 11 | 6 | NHS Vs Benslem | View |
| 1963 | 9 | 6 | NHS Vs Central Dauphin | View |
| 1963 | 9 | 20 | NHS Vs LaSalle | View |
| 1963 | 10 | 4 | NHS Vs Allen | View |
| 1963 | 10 | 11 | NHS Vs Dieruff | View |
| 1963 | 11 | 1 | NHS Vs Wilson | View |
| 1964 | 9 | 11 | NHS Vs Bishop Egan | View |
| 1964 | 9 | 25 | NHS Vs Easton | View |
| 1964 | 10 | 30 | NHS Vs Wilson | ViewView |
| 1964 | 11 | 6 | NHS Vs Wm. Tennent | View |
| 1964 | 11 | 20 | NHS Vs Delhaas | View |
| 1965 | 10 | 23 | NHS Vs Johnson City | View |
| 1966 | 09 | 09 | NHS Vs Bishop Egan | View |
| 1966 | 09 | 16 | NHS Vs LaSale | View |
| 1966 | 09 | 23 | NHS Vs Easton | View |
| 1966 | 10 | 01 | NHS Vs Allen | View |
| 1966 | 10 | 07 | NHS Vs Dieruff | View |
| 1966 | 10 | 14 | NHS Vs Liberty | View |
| 1966 | 10 | 21 | NHS Vs Wilson | View |
| 1966 | 10 | 28 | NHS Vs Tennent | View |
| 1966 | 11 | 05 | NHS Vs Altoona | View |
| 1966 | 11 | 12 | NHS Vs Pennsbury | View |
| 1967 | 09 | 08 | NHS Vs Bishop Egan | View |
| 1967 | 09 | 15 | NHS Vs Pennridge | View |
| 1967 | 09 | 22 | NHS Vs Easton | View |
| 1967 | 09 | 29 | NHS Vs Allen | View |
| 1967 | 10 | 06 | NHS Vs Dieruff | View |
| 1967 | 10 | 13 | NHS Vs Liberty | View |
| 1967 | 10 | 21 | NHS Vs Tennent | View |
| 1967 | 11 | 03 | NHS Vs McDevitt | View |
| 1967 | 11 | 10 | NHS Vs Pennsbury | View |
| 1967 | 11 | 17 | NHS Vs Wilson | View |
| 1967 | 11 | 20 | 1967 Banquet | View |
| 1968 | 1 | 29 | Scholar Athletes Dinner | View |
| 1969 | 9 | 26 | NHS Vs Easton | View |
| 1970 | 9 | 18 | NHS Vs Pennridge | View |
| 1970 | 10 | 2 | NHS Vs Wm Tennent | View |
| 1971 | 9 | 10 | NHS Vs Bishop Egan | View |
| 1971 | 11 | 5 | NHS Vs Freedom | View |
| 1972 | 9 | 8 | NHS Vs Bishop Egan | View |
| 1972 | 11 | 18 | NHS Vs Pennsbury | View |
| 1974 | 10 | 11 | NHS Vs Dieruff | View |
| 1974 | 11 | 2 | NHS Vs Woodrow WIlson | View |
| 1979 | 11 | 2 | NHS Vs Council Rock | View |
| 1981 | 9 | 11 | NHS Vs Bishop Egan | View |
| 1982 | 10 | 9 | NHS Vs Council Rock | View |
| 1984 | 11 | 9 | NHS Vs Pennsbury | View |
| 1985 | 9 | 6 | NHS Vs Bishop Egan | View |
| 1986 | 11 | 14 | NHS Vs Pennsbury | View |
| 1987 | 10 | 3 | NHS Vs Abington | View |
| 1988 | 10 | 22 | NHS Vs Bensalem | View |
| 1988 | 10 | 29 | NHS Vs Council Rock | View |
| 1988 | 11 | 18 | NHS Vs Pennsbury | View |
| 1988 | 12 | 3 | East/West Game | View |
| 1989 | 9 | 28 | NHS Vs CBEast | View |
| 1989 | 10 | 27 | NHS Vs Council Rock | View |
| 1989 | 11 | 11 | NHS Vs Wm. Tennent | View |
| 1991 | 9 | 6 | NHS Vs Bishop Egan | View |
| 1991 | 10 | 4 | NHS Vs CB West | View |
| 1991 | 12 | 7 | East/West | View |
| 1992 | 9 | 12 | NHS Vs Bishop Egan | View |
| 1992 | 9 | 19 | NHS Vs Council Rock | View |
| 1992 | 11 | 13 | NHS Vs Pennsbury | View |
| 1993 | 9 | 11 | NHS Vs Conwell Egan | View |
| 1993 | 9 | 17 | NHS Vs Council Rock | View |
| 1993 | 11 | 5 | NHS Vs Bensalem | View |
| 1994 | 9 | 2 | NHS Vs Dieruff | View |
| 1995 | 9 | 1 | NHS Vs Dieruff | View |
| 1995 | 9 | 8 | NHS Vs Bensalem | View |
| 1995 | 9 | 15 | NHS Vs Council Rock | View |
| 1996 | 7 | 27 | 1996 Spring-Summer Big 33 Banquet | View |
| 1996 | 8 | 30 | NHS Vs Dieruff | View |
| 1996 | 9 | 6 | NHS Vs Bensalem | View |
| 1996 | 9 | 13 | NHS Vs Council Rock | View |
| 1996 | 9 | 27 | NHS Vs Norristown | View |
| 1996 | 12 | 1 | 1996 Banquet | View |
| 1997 | 6 | 7 | Bob Sands Memorial All Star Banquet | View |
| 1997 | 8 | 29 | NHS Vs Dieruff | View |
| 1997 | 09 | 28 | NHS Vs CBW | View |
| 1997 | 10 | 17 | NHS Vs Abington | View |
| 1998 | 06 | 06 | All Star Classic Game | View |
| 1998 | 09 | 04 | NHS Vs Dieruff | View |
| 1998 | 09 | 12 | NHS Vs CBE | View |
| 1998 | 9 | 25 | NHS Vs Council Rock | View |
| 1998 | 10 | 02 | NHS Vs CBW | View |
| 1998 | 10 | 09 | NHS Vs Norristown | View |
| 1998 | 10 | 23 | NHS Vs Abington | View |
| 1998 | 10 | 30 | NHS Vs North Penn | View |
| 1998 | 11 | 06 | NHS Vs Pennsbury | View |
| 1998 | 12 | 06 | 58th Annual Banquet | View |
| 1999 | 9 | 3 | NHS Vs Dieruff | View |
| 1999 | 12 | 5 | 1999 Banquet | View |
| 2000 | 9 | 1 | NHS Vs Father Judge | View |
| 2000 | 9 | 22 | NHS Vs HS Truman | View |
| 2001 | 9 | 28 | NHS Vs CB West | View |
| 2002 | 8 | 30 | NHS Vs Father Judge | View |
| 2002 | 11 | 1 | NHS Vs Pennsbury | View |
| 2003 | 9 | 5 | NHS Vs CR North | View |
| 2003 | 6 | 7 | 28th Annual All Star Game | View |
| 2004 | 9 | 17 | NHS Vs CB South | View |
| 2004 | 11 | 26 | NHS Vs North Penn | View |
| 2005 | 1 | 29 | 2004 Banquet | View |
| 2005 | 9 | 30 | NHS Vs HS Truman | View |
| 2006 | 9 | 15 | NHS Vs Germantown | View |
| 2006 | 10 | 14 | NHS Vs CB South | View |
| 2007 | 10 | 20 | NHS Vs North Penn | View |
| 2008 | 10 | 31 | NHS Vs Pennsbury | View |
| 2009 | 10 | 2 | NHS Vs HS Truman | View |
| 2010 | 9 | 24 | NHS Vs Abington | View |
| 2010 | 10 | 15 | NHS Vs CR South | View |
| 2010 | 11 | 12 | NHS Vs Upper Dublin | View |
| 2011 | 10 | 21 | NHS Vs HS Truman | View |
| 2012 | 10 | 5 | NHS Vs CR North | View |
| 2013 | 9 | 6 | NHS Vs DTWest | View |
| 2014 | | | Ad Program | View |
| 2015 | | | Ad Program | View |
| 2016 | | | Ad Program | View |
| 2017 | | | Ad Program | View |
| 2018 | | | Ad Program | View |
| 2019 | | | Ad Program | View |
| 2020 | | | Ad Program | View |
| 2021 | | | Ad Program | View |